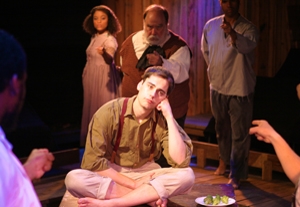 Roger Miller and William Hauptman's Tony-winning 1985 musical found a new lease on life when Deaf West Theatre presented its unique interpretation, which flourished locally in a 99-Seat production and at the Mark Taper Forum, prior to a 2003 Broadway run and national tour. Actors Co-op revisits the show in its original form, though director Richard Israel's in-the-round staging puts its own stylish stamp on the piece. Tuneful, funny, and heartwarming, this production offers a flavorful visit to the literary world of Mark Twain, bolstered by Miller's charming score—a rousing mix of country-western, gospel, and traditional show tunes.
Based on Twain's "The Adventures of Huckleberry Finn," Hauptman's engaging book combines an episodic series of hilarious and hair-raising escapades, as plucky teenager Huck (Sean Hankinson) sets out on a journey of self-discovery on a raft down the Mississippi River, accompanied by runaway slave Jim (James Fowler). Israel keeps the pace buoyant, bringing out the material's robust humor and heartfelt sentiment. He demonstrates a sure hand for fluid staging, greatly aided by Stephen Gifford's superbly conceived scenic design. A bare playing space is embellished with set pieces and furnishings brought out by the cast, including an inspired concept for a moving raft. Lisa D. Katz's lighting, Vicki Conrad's costumes, and Rebecca Kessin's sound contribute to the triumph of atmosphere.
Hankinson is captivating and energetic in the titular role, a perfect counterbalance for the broadly etched characters surrounding him. In the second-banana role of cohort Tom Sawyer, Bryce Blue is a delight, at his best in the "Hand for the Hog" vignette. Fowler eloquently evokes Jim's courage and dignity, and his booming voice beautifully suits Miller's soaring ballads. Stephen Reynolds and Bruce Green are splendid in the show's choicest comic roles as two buffoonish con men. Masters at vaudevillian shtick, these two are sidesplitting in the jaunty "When the Sun Goes Down in the South" and "The Royal Nonesuch." Curt Bonnem is chilling as Huck's moonshine-swilling father and excels in other roles. Brian Byers likewise does fine work playing multiple characters. Additional noteworthy turns are offered by Rory Patterson, Tracy Ray Reynolds, and Pamela Hamill. Julie Hall's choreography is spryly entertaining, and Linda Kerns' music direction is top-notch.
Presented by Actors Co-op at the Crossley Theatre, 1760 N. Gower St., Hollywood. Sept. 25–Nov. 1. Fri.–Sat., 8 p.m.; Sun., 2:30 p.m. (Additional performances Sat., 2:30 p.m., Oct. 3, 10, and 31. Dark Sat., 8 p.m. Oct. 31.) (323) 462-8460, ext. 300.