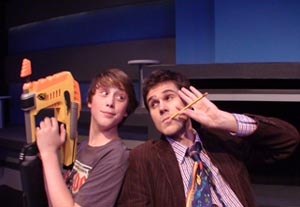 This 1996 adaptation of the Tom Hanks film comedy
Big
lasted only six months on Broadway. Yet a cult following has kept it alive, cementing the musical's reputation as a costly failure that deserved a better fate. The underrated score by composer David Shire and lyricist Richard Maltby Jr. is a joy, and John Weidman's libretto comes close to capturing the quirky charm of the screenplay. Director Richard Israel's rendition, scaled down for a tiny performance space, is hampered by uneven singing and other rough edges, though Christine Lakin's buoyant choreography and several spry performances provide compensation.
The familiar plot device—youngsters magically switching into adult bodies, or vice versa—has been cycled through several films, such as
Freaky Friday
and
17 Again
. Nonetheless, this sprightly comedy-fantasy feels fresh, thanks to its disarming mix of goofiness and heart. Making a wish at a carnival fortune-telling machine, 12-year-old Josh (LJ Benet) states his desire to be bigger. The next morning, he awakens to find his youthful spirit transported into a 30-year-old body (Will Collyer). Panicking and fleeing to Manhattan, Josh finds himself hired as a toy designer, soon pursued romantically by company executive Susan (Darrin Revitz). How does a precocious minor cope with grown-up emotions, and what will Josh do when given the option to return to his adolescent self?
A first-rate song-and-dance man, Collyer sparkles when leading zesty production numbers such as "Cross the Line" and "Coffee Black." He's less effective at finding the tension and humor in Josh's awkward assimilation into adult life. The captivating Revitz has a sweet voice, which is well-suited to the lilting "Dancing All the Time." She and Collyer are terrific in the enchanting duet "Stars." The lead youngsters (Benet and Sterling Beaumon as young Josh's pal Billy) are adept cutups.
Music director Daniel Thomas' keyboard accompaniment serves the jaunty songs well, and Lakin's dance numbers crackle with energy and wit. On opening night, too many instances of timid line deliveries and inaudible song lyrics suggested a need for more rehearsal. Hopefully, this moderately effective revival will shed its growing pains to become the big hit that seems within its reach.
Presented by West Coast Ensemble at the
El Centro Theatre, 800 N. El Centro Ave., Hollywood.
May 8–June 28. Fri.–Sat., 8 p.m.; Sun., 3 p.m.
(323) 460-4443
or
www.tix.com
.