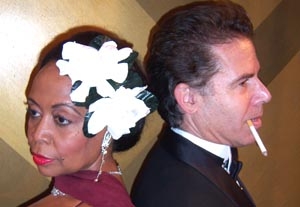 Billie Holiday and Humphrey Bogart, who died in 1959 and '57 respectively, remain icons in their fields, and both are worthy of theatrical exploration. But in a case of extremes, the
Bogie
portion of the evening is well-acted and engaging while
Billie
is textbook amateurish acting and clunky writing, which overshadows a half-dozen pleasantly performed Holiday songs.
The good news, unfortunately, comes after the 25-minute intermission. Dan Spector appears as Bogart on the evening of his Academy Award win in 1952 for his performance in
The African Queen
. A party with several Hollywood friends winds down, and Bogie is left with his Oscar, who serves as a drinking companion while the tough-guy actor waxes about his childhood and marriages. Spector, who wrote the piece, refrains from a nightclub-act impersonation, instead relying on general mannerisms and diction to convey Bogart. He and director Bryan Rasmussen use projected videos and photographs to enhance the stories. At 50 minutes, Spector doesn't overstay his welcome, but his monologue rings true, as if it could have happened.
Billie
, on the other hand, is a mess from start to finish. Synthia L. Hardy, who scripted her 70-minute work, continuously fumbles her lines, or she repeats them as if she is searching for what to say next. Every time she handles a prop, she loses track. She can't get her dress on and has to ad-lib for nearly a minute. At one point Hardy sings a song different from what her accompanist plays, and another one is so out of synch that she has to start again. Yes, there are bits of vignettes about Holiday's life, but they are so disjointed that they lack emotional impact. The few successful song performances, however, are reminiscent of Holiday and are enjoyable.
If the show continues to start 20 minutes late, arriving at 9:40 would be perfect for missing
Billie
and seeing
Bogie
.
Presented by and at the Whitefire Theatre, 13500 Ventura Blvd., Sherman Oaks. July 18–Aug. 22. Sat., 8 p.m.
(323) 960-4418. www.plays411.com/billie-bogie.