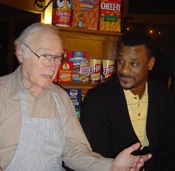 The waltz that unexamined liberalism sometimes does with silent racism is artfully explored in Jerry Mayer's race-tinted comedy, now remounted from its original production a year ago. Although the show remains unaltered from its previous incarnation, the recent changes on the political landscape give the piece an added punch and relevance that turns the piece into a totally different play from its incarnation before -- and a better one.
Just after the assassination of John F. Kennedy in 1963, St. Louis real estate developer Jeff Bluestein (Loren Lester), a middle-class Jewish man living in the housing estate he has helped to create, wants to sell one last property so he can move on and open another housing tract. Dr. Daniel Black (John Eric Bentley) should be the perfect candidate to buy the property: He's a former college professor who's now a biochemist and executive at Monsanto. Yet he's also African-American, and, in 1963, the residents of the all-white Jewish enclave fear that Black's arrival will cause property values to plummet.
Bluestein battles his own latent ambivalence -- and his guilt over it -- while trying to calm his fearful neighbors, including the shrill, haglike bigot Mimi (Lenora May) and elderly Old World alter kocher Uncle Joe (George Coe).
Directed by Deborah Harmon, the piece is tightly honed, and the work boasts political trenchancy, particularly during the scenes in which characters debate issues of race.
Director Harmon's staging is quick-paced and assured, and the performers' admittedly stock characters are rich with lovable charisma and personality. Lester's neurotic turn as "Woody Allen lite" is humorously twitchy and pained. May and Coe manage to be sympathetic, albeit morally flawed, in their supporting roles. However, the show is anchored by Bentley's unexpectedly complex performance as Dr. Black. He plays the character as an "ambassador" for his race, but every once in a while the mask slips, and we see signs of the resentment the character must feel at the duty he must perform.
Presented by and at the Other Space at the Santa Monica Playhouse,
1211 Fourth St., Santa Monica.
Sat. 3 & 8 p.m. Mar. 15-June 1.
(800) 838-3006. brownpapertickets.com/event/26952.