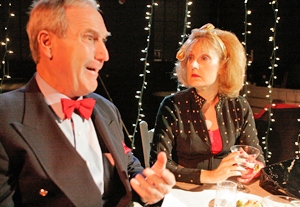 In his 2002 comedy "Hollywood Burning," playwright Michael Sargent explored the warped psyche of avant-garde filmmaker Kenneth Anger—via a character named Kenneth Angry. In his latest sendup, Sargent once again casts a jaundiced eye on an iconoclastic gay artist. The subject here is the hedonistic lifestyle of the late homoerotic photographer Robert Mapplethorpe—here called Robert Krapplethorpe. Less a roman à clef exposé than a freewheeling reverie, this new piece is dominated by rude behavior, deafening rock music, and plenty of nudity and simulated gay sex. Under the energetic direction of Chris Covics, the production elicits intermittent flashes of outrageous fun. Sargent pulls no punches in this dicey tale of debauchery and art and whether the twain shall meet.
Billed as a "comedy of desperation," the play takes place in 1981 Manhattan. The first scene occurs in Tavern on the Green, where Robert's wealthy sugar daddy Sam (Jan Munroe) and a pretentious art dealer, Jilly (Kathy Bell Denton), meet with the doped-up photographer. Robert (Sargent) hurls abusive barbs at his dinner companions, which the wacky Jilly seems to relish. The remaining three scenes play out in Robert's loft studio. Following raunchy sexual adventures with his current squeeze, Milton (Kevin Daniels), Robert suggests Milton murder a competitive photographer. When Robert subsequently learns a grisly gay murder has occurred in the city, he assumes Milton took him seriously and committed the crime. Robert's former heterosexual flame Ratty Spit (Liz Davies) drops over, and Robert relays his fears to her.
Narrative isn't Sargent's strong point. The series of fast-paced episodes heavily rely on bawdy punch lines and incidents geared to shock us. The scenes tend to meander, sometimes giving way to seemingly irrelevant segments, as when Ratty and Robert launch into a lengthy dance routine. Nonetheless, Sargent's zonked-out narcissist is often quite funny, Denton is a hoot in her over-the-top portrayal, and the other actors, including Dustin David in two small roles, offer solid support. Design elements, credited to Covics, enhance the funky ambiance of this off-the-wall comedy.


Presented by and at Unknown Theater, 1110 Seward St., Hollywood. Nov. 20–Dec. 19. Thu.–Sat., 8 p.m.; Sun., 6 p.m. (323) 466-7781. www.unknowntheater.com.