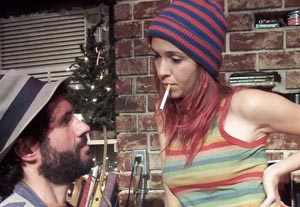 In plays such as "Nocturne" and "Bingo With the Indians," Adam Rapp has incisively explored the darker recesses of the human soul. Though the playwright's 2004 drama "Blackbird" is a hard-hitting portrait of two characters living in squalor and emotional disarray, it's leavened by edgy humor and the redemptive power of hope. Director Ron Klier's production, powered by two luminous performances, is a mesmerizing view of the human capacity for spiritual resilience.
This story of odd-couple misfits recalls John Schlesinger's masterful "Midnight Cowboy" in its view of compassion and human connection prevailing in unexpected places. Baylis (Johnny Clark) is an embittered Gulf War veteran with debilitating back problems. Incontinent, impotent, and in serious legal trouble, this ex-junkie drowns his sorrows in alcohol. Residing with him in a skuzzy New York tenement is the teenage waif Froggy (Jade Dornfeld), a heroin addict whom Baylis met when she was dancing in a strip club. It's Christmas Eve, and as the troubled duo attempts to generate a hint of holiday spirit, Froggy reveals that she has contracted hepatitis. Baylis urges her to return home, where her family can give her proper care.
Klier has elicited brave and richly detailed performances. As a man whose life dreams have faded away, Clark expertly segues between Baylis' gruff and dangerously violent sides and the sensitive heart of a poet with a yearning for romance. Portraying a character in pain merely trying to put on shoes let alone walk across the room, Clark powerfully depicts Baylis' suffering, as well as his unflinching determination. Dornfeld's multishaded portrayal of a psychologically wounded child who skipped past innocence to the harsh realities of a miserable life is heart-wrenching.
Inspired designs—Danny Cistone's set, Derrick McDaniel's lighting, Klier's sound effects, and costumes by Gelareh Khalioun and Erin Mueller—convert a tiny performing space into a gritty microcosm of urban blight and spiritual malaise. Rapp's script could use trimming; he sometimes lingers over well-established points. Yet his unorthodox love story is extremely compelling, and the VS. rendition is extraordinary.

Presented by VS. Theatre Company at the Elephant Theatre Lab, 6324 Santa Monica Blvd., Hollywood. Aug. 14–Sept. 19. Thu.–Sat., 8 p.m. (323) 860-3283. www.plays411.com/blackbird.