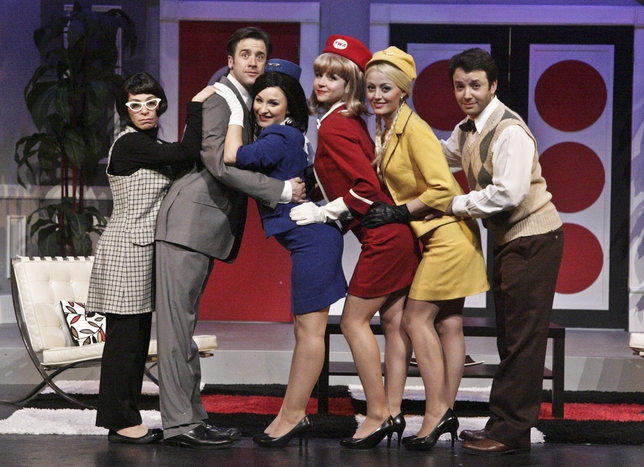 If the title of French playwright Marc Camoletti's sex farce from 1960 sounds familiar, it could be because "Boeing-Boeing" was filmed in 1965, with Tony Curtis as the swinging American bachelor juggling three "air hostess" fiancées in his Paris pad and Jerry Lewis as the pal who stops by for a visit. Bernard (Carter Roy), an American architect and a self-styled playboy, keeps a flat in Paris that he uses as his base of operations for an ingenious scheme: By only dating flight attendants who serve on international routes and paying careful attention to their airlines' timetables, he can juggle three different young ladies whose paths never cross. He keeps the deception going with the reluctant help of Berthe (Michelle Azar), his French housekeeper, but the invention of a super-high-speed Boeing jet and a huge North Atlantic storm system conspire to bring all three luscious ladies to the apartment simultaneously, wreaking havoc on Bernard's plans and pushing him close to a nervous breakdown.
Translated in 1962 by Beverley Cross and again in 2008 by Francis Evans, Camoletti's play is admittedly hot (at times) and sexy (at times), but it's also silly, illogical, and patently absurd. Despite director Jeff Maynard's spirited direction and the production's high degree of craftsmanship, accepting the goings-on requires considerable suspension of disbelief.
Roy's Bernard is at first cocky and scheming, later scattered and frantic, his mind obviously in overdrive in witless attempts to stay one step ahead of disaster. While Roy is neither a credible babe magnet nor sufficiently charming to win us over, he does produce some risible moments from Bernard's crackup. Marc Valera delivers stock lunacy in the second-banana role of visiting pal Robert, a brainless cheerleader, protector, and sometime cohort of Bernard's actions. The pair's increasing anxiety and desperation, though, never ramps up to the point of triggering helpless audience laughter.
In a gem of a performance, Azar uses a Gallic accent to express Berthe's fits of pique and her annoyance with her boss, his friend, and the demands of his girlfriends. Via her variations on chagrin, she makes her character's distaste and disgust toward Bernard's predicaments plainly, comically evident. Melanie Lora's New Yorker Gloria is at first warm, bubbly, affectionate, and naive, but her naughtier, more sexually provocative side emerges in Act 2, generating some much-needed heat. Part take-charge Teutonic, part softhearted, sentimental romantic, Amy Rutberg's German Gretchen is a loud, exuberant drama queen. As Gabriella, who honestly loves Bernard, Kalie Quinones is genuinely alluring, exhibiting a pleasingly fiery temper as the Italian miss begins to suspect that her beloved isn't being honest.
Kevin Clowes' chic, clean, gorgeous apartment has the look and feel of '60s abstract art. Helen Butler's fashion styles for Bernard, Robert, and Berthe are timeless, while the three young ladies' flight-attendant uniforms and Sarah Wolfe's hair, wig, and makeup designs firmly lock the goddesses of the sky into the right era. Dana Solimando's closing dance number injects a much-needed element of kitschy fun that the rest of the show somehow evades.
Presented by McCoy Rigby Entertainment at La Mirada Theatre for the Performing Arts, 14900 La Mirada Blvd., La Mirada. Jan. 19–Feb. 10. (562) 944-9801, (714) 994-6310, or www.lamiradatheatre.com.
Critic's Score: C