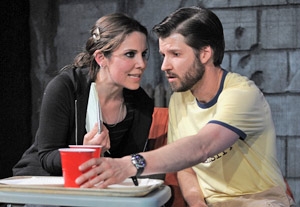 In Peter Sinn Nachtrieb's 2006 play "Hunter Gatherers," the slaughter of a lamb set the stage for a savagely funny exploration of the animalistic impulses of desperate humans. Fittingly, another life species—small fish swimming in a tank—becomes a metaphor for human civilization in Nachtrieb's hilarious and thought-provoking "Boom," a quirky romcom that morphs into a tension-filled apocalyptic parable. Brimming with originality and wit, Nachtrieb's engrossing play is given an exemplary L.A.-premiere staging, thanks to the efforts of director Dámaso Rodriguez and a splendid three-member cast.
When Jules (Nick Cernoch), a nerdy marine biologist, runs an Internet ad promising "sex to change the course of the world," the horny respondent, Jo (Megan Goodchild), doesn't realize he means this literally. Jules' studies of fish behavior have convinced him a calamity will strike the planet that evening. He believes he and his guest will be the only survivors, and they must find ways to ensure human life will go on. As this odd couple struggles through an uneasy getting-acquainted period, Nachtrieb springs delicious surprises. A clever framing device features the character of Barbara (Julia Duffy), a tour guide, who hosts a dramatized exhibit depicting the end of civilization, thousands of years prior.
It's impossible to predict what's coming next during the play, and further involvement derives from Nachtrieb's invigorating mix of tones—from goofy to rueful to suspenseful. Cernoch achieves a richly varied performance, including superbly dexterous physical comedy. He somehow parlays the bizarre logic of this forlorn hero into a character earning our empathy. Goodchild excels at revealing intricate layers of her troubled character while finding the zany humor in the dialogue. Duffy is marvelous as the chatty hostess who initially comes across as businesslike but soon begins showing her own emotions, adding fun and insight to the unfolding drama.
The design team expertly balances the gadgetry of Barbara's stage-right control booth with the demands of Jules' densely furnished subterranean fortress. Kurt Boetcher's scenic design, Christie Wright's lighting, Doug Newell's original music and sound, Leah Piehl's costumes, Shannon Dedman's props, and Eric Pargac's graphic design wonderfully support the irresistible fancies of Nachtreib's fertile imagination.
Presented by Furious Theatre Company at the Carrie Hamilton Theatre, 39 S. El Molino Ave., Pasadena. May 22–June 20. Thu.–Sat., 8 p.m.; Sun., 7:30 p.m. (626) 792-7116. www.furioustheatre.org.