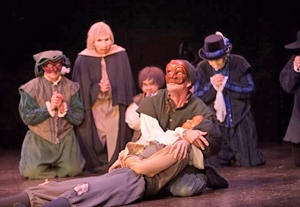 The most popular stories about Jamestown, the first permanent English settlement in America, feature a mythical romance between a Powhatan chief's daughter, Pocahontas, and Capt. John Smith. In this new play, written and directed by Tim Robbins, the historically unproven romance is thrown out in favor of authenticity. Though this commitment to truth is admirable, the play becomes mired in an overabundance of clever theatrical devices—bells and whistles that bury the lovely story at the script's core.
Inspired by the work of historians Howard Zinn, Tim Hashaw, and Benjamin Woolley, "Break the Whip" pieces together a tale of the three cultures at Jamestown: the Powhatan tribe, the English settlers, and West African slaves. Shadow puppetry is used throughout, mostly as a visual aid during expository scenes about the practices and belief systems of each culture. Three distinct languages are spoken to wonderful effect—a choice that reminds us of the multicultural origins of America. But throw in masks, commedia dell'arte slapstick, and the focus-stealing choice to have all 20-plus actors visible at all times—when not part of a scene, they are situated in deliberately exposed wings, changing, stretching, and otherwise acting out of character—and the story goes south. The fact that the play emerged out of a workshop exercise is glaringly obvious; it feels like a workshop piece that has not yet reached the production phase.
The show's flaws are certainly not for lack of trying, and the efforts of Robbins and his formidable cast yield wonderful moments. A song-and-dance number about Angola reels in the audience with its pure simplicity and celebratory spirit. Johnny Burton's shadow puppets create a sense of folkloric storytelling, and hearing the musical Kimbundu and Lenape languages is a gift.
Presented by the Actors' Gang at the Ivy Substation, 9070 Venice Blvd., Culver City. Sept. 18–Nov. 20. Wed.–Fri., 8 p.m.; Sat., 7 p.m. (310) 838-4264 or www.theactorsgang.com.