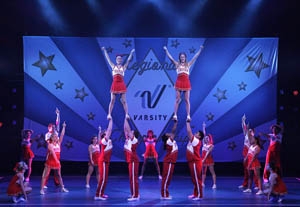 Exuberant fun and enough energy to light up Times Square—and perhaps all of Manhattan—are the hallmarks of this smartly conceived musical frolic. Set in the cutthroat world of high school cheerleading, the remarkably fresh show is loosely based on the 2000 film "Bring It On" and its direct-to-DVD sequels.
"Glee" meets "A Chorus Line" meets "Legally Blonde" in the libretto by Jeff Whitty ("Avenue Q"), which shrewdly sends up the foibles of impetuous youths in its portrait of the fervent competitive spirit of status-conscious teenagers. The score by pedigreed Broadway craftsmen—music by Tom Kitt and Lin-Manuel Miranda and lyrics by Miranda and Amanda Green—delivers an amalgam of rap, rock, pop, and Broadway pizzazz. The upbeat and clever songs are smoothly integrated into the story.
Our ebullient heroine Campbell (Taylor Louderman), Truman High School's cheerleader captain, abruptly runs into a snag. A mandated redistricting reassigns her to the more culturally diverse Jackson High School, which—horror of horrors—has no cheerleading squad. Initially clashing with Danielle (Adrienne Warren), the head of a hip-hop singing group at Jackson, Campbell ultimately befriends her. The feisty pals set out to form a rival cheerleading squad and go after Truman High. It would be especially satisfying to triumph over Eva (think "All About Eve"), the conniving coed who took over Campbell's slot at Truman. The villainess is deliciously played by Elle McLemore.
Louderman is a captivating performer who quickly wins our admiration, and Warren is likewise fine as her accomplice. Jason Gotay sparkles as Campbell's boyfriend, Randall. Standouts in the large supporting cast are the hilarious and charming Ryann Redmond as the chunky outcast Bridget, who blossoms into a force of nature, and Gregory Haney as the cheeky transvestite La Cienega.
Music director Dave Pepin brings out the best in the outstanding score. Director-choreographer Andy Blankenbuehler ensures a polished and exhilarating ride, highlighted by breathtaking acrobatic feats. Further visual splendor is provided by David Korins' set, Andrea Lauer's costumes, Jason Lyons' lighting, and Jeff Sugg's amazing video design.
This youth-oriented attraction promises to appeal to audiences of all ages during its national tour, likely followed by a Broadway run.
Presented by Center Theatre Group at the Ahmanson Theatre, 135 N. Grand Ave., L.A. Nov. 11-Dec. 10. Tue.-Fri., 8 p.m.; Sat., 2 & 8 p.m.; Sun., 1 & 6:30 p.m. (Student matinee only, Thu., Nov. 17; dark Thu., Nov. 24; dark Sun., 6:30 p.m., Dec. 4; added performance Mon., 8 p.m., Nov. 21; added matinees Thu., 2 p.m., Dec. 1 & 8.) (213) 972-4400. www.centertheatregroup.org.