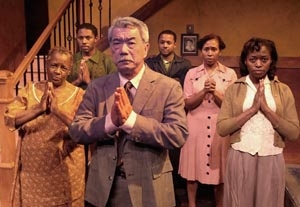 Tim Toyama and Aaron Woolfolk's new play is based on the account of a lad (a heartbreaking Jeff Manabat) who, instead of submitting to being carted off to a "relocation" camp with all other Americans of Japanese descent during World War II, holes up in his family's abandoned home in Los Angeles' Little Tokyo. When area landlords decide to ignore the "no blacks allowed" clauses in local rental agreements and open the incarcerated residents' homes to the influx of African-Americans from the Deep South come to take the jobs left behind, the Goodwin family moves into the boy's home—and soon face what to do about the near-starving fugitive hiding in the attic.
It takes something special to make any world-weary veteran critic leave the building through a veil of journalistically nonobjective tears. This is especially true when a play is as intrinsically predictable as this—send any innocent kid off to war in most forms of literature, and it's not hard to foresee what that dreaded telegram from the war department will reveal. Still, when writing is as accessible and historically illuminating as this, and when a collection of super-talented artists match that effort with the commitment and capabilities in direction, design, and performance as have been contributed here, better bring the hanky no matter why you're there.
Ben Guillory's spot-on direction enhances this superb script perfectly, as does the breathtakingly gifted ensemble he has found to interpret the vision. CeCe Antoinette is particularly memorable as Mama Janie, the feisty geriatric ex-slave who rules the clan with deference to her singular history ("No one in this family," she insists, "is gonna turn in nobody who jus' wants his freedom"), and every actor gracing this stage couldn't be better chosen.
The debut of any play this impressive is a major contribution to theatrical literature but, for Angelenos, what Toyama and Woolfolk have conjured provides much more. What it tells us about the history and societal progression of Japanese- and African-American citizens in our city couldn't be more valuable in understanding the present by exploring the shameful past.
Presented by Robey Theatre Company at the New LATC, 514 S. Spring St., L.A.
April 17–May 17. Fri.–Sat., 8 p.m.; Sun., 3 p.m.
(213) 489-0994, ext. 107 or
www.thenewlatc.com.