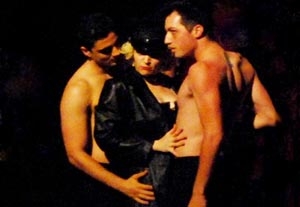 This Kander and Ebb classic was a groundbreaker when it premiered in 1966. In its unnerving portrait of 1930s Berlin, just prior to the Nazi reign of terror, it catapulted the Broadway musical genre into edgier terrain. Director Judy Norton, choreographer Tania Possick, and music director Greg Hakke have done an exquisite job of dusting off the vintage vehicle, supplying enough fresh touches to reinvigorate the piece while carefully preserving its tricky amalgam of vaudevillian delights and heart-wrenching drama. This modestly budgeted production, scaled down for a 99-seat venue, is an unmitigated triumph, surpassing many previous high-profile renditions.
From the moment we enter the theater, the spell is cast. The sensational onstage band performs classic tunes, while provocatively costumed ensemble members with German accents stroll around, taking drink orders and flirting with audience members. The show begins energetically as the decadent Emcee (a galvanic Eduardo Enrikez) enters, introducing his sassy and sexy entertainers, in the dazzling "Willkommen." Two budding romances—that of hedonistic British chanteuse Sally Bowles (Kalinda Gray) with conservative American writer Clifford Bradshaw (Michael Bernardi), and gentile landlady Fräulein Schneider (Annalisa Erickson) with Jewish fruit vendor Herr Shultz (Jayson Kraid)—face uphill struggles amid the political turmoil and moral confusion of the times.
Erickson's sublime portrayal of the world-weary Schneider culminates in a devastatingly moving rendition of the melancholy "What Would You Do." She shares a wonderful interplay with the likewise splendid Kraid in joyous duets ("Married" and "It Couldn't Please Me More"). Gray skillfully illuminates the tragicomic contradictions of Sally, a woman-child prone to repeating her mistakes, and Bernardi is likable as the befuddled visitor. In the supporting roles of menacing Ernst Ludwig and enterprising night worker Fräulein Kost, Craig Bachmann and Josie Yount elicit chills. The gifted ensemble of audacious Kit Kat Boys and Kit Kat Girls—some taking interesting speaking roles—seamlessly contributes to the production's consummate polish. With this shimmering effort, the three-year-old Musical Theatre of Los Angeles stakes its claim as a theatrical force to reckon with.
Musical Theatre of Los Angeles in association with Canary Productions at the Met Theatre, 1089 N. Oxford Ave
.,
Hollywood. June 19
–
Aug. 9. Fri
.–
Sat
.,
8 p.m
.;
Sun
.,
3 p.m. www.plays411.com/cabaret
.