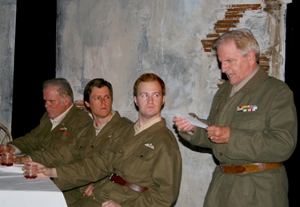 When we think about theater musicals, we probably remember the dramatic sweep, soaring romantic melodies, exuberant dance numbers, and virtuoso performances we have witnessed. When writer-composer-director Troy Gleeson conceived this World War I musical, he may have had similar visions, but his efforts are only partially successful. His work is more like a cantata than a musical.
The story, set in 1918, concerns a young American couple, Bill (Evan Charest) and Mary (understudy Rachel Noll, subbing for Lindsay Nesmith), who have been courting for several years. But he's violently commitment-phobic and can bring himself to propose to her only after he has enlisted in the Canadian Air Force and is about to leave for France to fight for embattled England. She's smart enough to be angered by his evasiveness, but she's determined to hold onto him, so she volunteers to serve as a nurse in France. They are separated for much of the play, and it's hard to generate much romantic heat between her and her absent and reluctant swain.
So many subplots intervene, involving Mary's hospital duties, Nurse Sarah (Julia McIlvaine) and an eccentric Irish doctor (Rick Dano), and the increasingly decimated fighter squadron to which Bill is assigned—the play's title refers to the rickety fabric-covered planes of the 1918 era—that we often lose track of the lovers. The many short scenes often fail to climax, and awkward pauses to change the heavy scenery further interrupt the action. The only time the piece breaks free into adrenaline-pumping musical exuberance occurs in Act 2, in a Paris cabaret, featuring a spirited can-can performed by choreographer Amy Lawrence, Chrissy Conner, and Tiwana Floyd. There, Bill and Mary are reunited, and he finally overcomes his reluctance to actively pursue her, even if it means going AWOL. When they at last get together, instead of the soaring finale we expect, we're treated to a last scene with no music at all.
Despite his apparent ambitiousness, Gleeson seems to lack the dramaturgical and directorial skills to weld the diverse elements into an effective whole or achieve the dramatic momentum that could generate excitement and make us care about his tale. So the efforts of the large and seemingly able cast—including J.D. Crawford, Lawrence McEvoy, Sabrina Hill, Jovial Kemp, William Knight, Kevin Meoak, and Trent Walker—fail to achieve the payoff their efforts deserve.
Presented by Troy Gleeson Productions at the Secret Rose Theatre, 11246 Magnolia Blvd., North Hollywood.
Sept. 9–Oct. 2. Thu.–Fri., 8 p.m.; Sat., 2 and 8 p.m.
(877) 620-7673. www.theatermania.com.