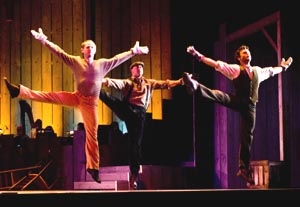 It starts out like a seemingly ordinary day in a coastal New England town, at the end of the 19th century.
To the rich strains of Richard Rodgers and Oscar Hammerstein II's gorgeous orchestral prologue "The Carousel Waltz," the energetic townspeople carry in set pieces and props and go about their daily routines. When the resplendent number reaches its famous crescendo, a makeshift carousel is wheeled in, the perfect place for flirtations to commence, foreshadowing a blossoming romance.
The timeless magnificence of Rodgers' music and Hammerstein's lyrics and choreographer Lee Martino's graceful adaptations of Agnes de Mille's classic dances are the key elements accounting for this musical drama's enduring popularity. In director Michael Michetti's marvelous rendition, blessed with a terrific cast, this venerable 1945 warhorse takes on renewed luster, infused with the emotional sweep of grand opera.
Hammerstein's book, based on Ferenc Molnar's play "Liliom," becomes a bit unwieldy as it makes its way to the three-hour mark, and its supernatural story elements undoubtedly seemed fresher when the musical premiered. Yet, there are glorious songs and dances around every corner, and the gifted ensemble ensures that the production numbers are dazzling.
In casting the lead romantic roles of Julie Jordan and her bad-boy suitor Billy Bigelow, Michetti pulls off the production's biggest coup. Alexandra Silber is the ideal romantic heroine: strong-willed and noble, yet quintessentially feminine and helplessly in love. Her magnificent soprano is wondrous, and her song interpretations are so expressive that each one takes on the breadth of a dramatic scene. Holding his own against this incomparable performer is Robert Patteri as the captivating yet frightening Billy, a powder keg constantly on the verge of exploding. His full-throttled portrayal is highlighted by "Soliloquy," a heartfelt paean to impending fatherhood, showcasing the performer's singing and acting process to great advantage.
The ill-fated romantic couple is backed by colorful supporting characters, exquisitely interpreted here: Andy Taylor's hilarious Enoch Snow, Jane Noseworthy's love-struck Carrie Pipperidge, James Leo Ryan's menacing rogue Jigger, golden-voiced Victoria Strong excelling in "You'll Never Walk Alone" and "June Is Bustin' Out All Over," Tracy Lore's fiery portrayal of the carnival boss (a nonsinging role), and veteran character actor M. Emmett Walsh as the narrator.
Adding to the enchantments are Darryl Archibald's music direction, Steven Young's lighting, Garry Lennon's costumes, and Larry Blank's new arrangements, created for the London revival.
Presented by Reprise Theatre Company at the Freud Playhouse, UCLA campus, Westwood. Jan. 27–Feb. 7. Tue.–Fri., 8 p.m.; Sat., 2 and 8 p.m.; Sun., 2 and 7 p.m.  (310) 825-2101. www.reprise.org.