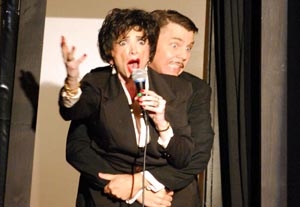 This loony, crazy quilt of a play by late gay playwright Jeffrey Hartgraves is set in a strange sort of limbo where a group of gay writers and icons—including Quentin Crisp (Leon Acord), Tennessee Williams (Curt Bonnem), Oscar Wilde (Jesse Merlin), and Truman Capote (Kevin Remington)—have taken up residence. When young writer Gryphon Tott (Levi Damione) is killed in a subway accident, he finds himself among them. The result is a bizarre mixture of camp, sophisticated comedy, "ontological discussion," and debates about the nature of artistic creation, reality versus perception, plagiarism, and literary ethics. The proceedings are enlivened by fleeting visits from other gay or gay-friendly figures, all played by Amanda Abel and Alex Egan. Gertrude Stein (Egan) and Alice B. Toklas (Abel) drop in but decide not to stay. Judy Garland (Abel) and her emcee (Egan) put on a mini-variety show, Judy performing fractured versions of her greatest hits. And Shakespeare (Egan) and Bette Davis (Abel) play out an unlikely Romeo and Juliet balcony scene. The play is most successful when it sticks to the comedic vein, as the more serious scenes are rather murky and unresolved. Nevertheless, it's great fun to watch and provides plum roles for its actors.
The actors don't always resemble the real-life figures they are playing, but they capture the basic essences with wit, skill, and bitchy badinage. Acord delivers an elegant Quentin Crisp, with an occasional resemblance to Maggie Smith. Bonnem's Williams is a bluff, hard-drinking, card-playing, fanny-pinching lecher, and Merlin's Wilde is played out with impeccable hauteur and comic timing. Remington's Capote is anchored in the author's later years, and he quacks away feistily and pugnaciously. Gryphon Tott is not an entirely coherent character, but Damione lends him charm and authority. Egan is appealingly goofy, and Abel is virtually a show unto herself, sending up Garland and Davis with broad strokes, and belting out the songs with style.
John Pabros Clark provides clever direction and brisk pacing, and the pastiche of Garland songs was a joint effort by Tom Shaw, Andy Howe, and Abel.
Presented by Larilee Productions in association with Combined Artform at Theatre Asylum, 6320 Santa Monica Blvd
.,
Hollywood. June 19
–
Aug. 9. Tue
.,
Fri
.,
and Sat
.,
8 p.m
.;
Sun
.,
2 p.m
. (
310
)
473-5483 or www.carvedinstonetheplay.com
.