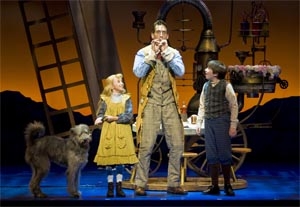 When the audience applauds the props more heartily than it applauds the performers, you know you're viewing an unusual musical. Of course, most props aren't as elaborate as flying automobiles, and no other musical has been based on a story by Ian Fleming, whose claim to fame derived from his gadget-dominated James Bond novels, which spawned a long-running movie franchise. The airborne titular vehicle is indeed impressive, though the overall design effort for this scaled-down touring edition of the London and Broadway extravaganza ranges from dazzling to cheesy. Machinery and technology remain foremost on one's mind while viewing this largely mechanical enterprise—in which story and characters take a back seat to visuals, and poor acoustic balance makes chunks of the dialogue and song lyrics inaudible.
This fanciful tuner is based on the 1968 film from Bond producer Albert R. "Cubby" Broccoli, which starred Dick Van Dyke and Sally Ann Howes, and borrowed Richard M. Sherman and Robert B. Sherman (
Mary
Poppins) from Disney to create an intermittently sprightly score, which sometimes lapses into the insufferably saccharine. Despite its box office success, the movie suffered from a poorly focused, meandering screenplay, in which the romantic leads consummated their bond at the end almost as an obligatory afterthought and the ballyhooed car was mostly forgotten in the diffusely plotted second half. Jeremy Sams adapted the screenplay for stage, and Ray Roderick made further changes for the touring edition. Now the comic villains (Dirk Lumbard, Scott Cote) become involved in the story earlier and have more physical-comedy shtick. Unfortunately, the narrative remains a lumbering, poorly structured affair. The second act, set in a totalitarian Bulgarian community, includes a child-stealing creep (Oliver Wadsworth) likely to terrify young viewers accustomed to hearing AMBER alert notices on the nightly news.
On the plus side, nimble Steve Wilson has charming moments as eccentric inventor Caractacus Potts; he's an adept singer-dancer. Kelly McCormick warbles sweetly as his reticent leading lady, Truly Scrumptious (no kidding, that's her name). Appealing young performers Jeremy Lipton and Camille Mancuso, as Potts' precocious moppets, sidestep seeming cloying. Able support is offered by Dick Decareau, George Dvorsky, and Elizabeth Ward Land in broadly etched roles. Roderick adapts Adrian Noble's Broadway staging. Joann M. Hunter's adaptation of Gillian Lynne's Broadway choreography is more serviceable than showstopping.
Presented by Big League Productions in association with Chitty UK Limited and MGM On Stage at Segerstrom Hall, Orange County Performing Arts Center, 600 Town Center Drive, Costa Mesa
.
July 7
–
19. Tue
.–
Fri
.,
7
:
30 p
.
m
.;
Sat
.,
2 and 7
:
30 p
.
m
.;
Sun
.,
1 and 6
:
30 p
.
m
.  (
714
)
556-2787. www
.
ocpac
.
org
.