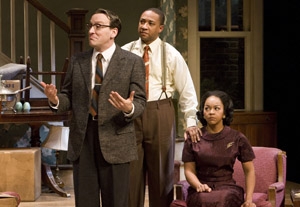 It's rare to discover American plays that can be considered sequels of sorts. It's even more uncommon to find a 50-year-old classic (Lorraine Hansberry's 1959 drama "A Raisin in the Sun," now at the Kirk Douglas Theatre) playing across town from a contemporary Pulitzer Prize winner that cleverly integrates plot elements and some key thematic concerns of the older piece.
Playwright Bruce Norris' hilarious and caustic satire "Clybourne Park" arrives in L.A. with cast, director, and design team intact from its
2010 Playwrights Horizons Off-Broadway staging
, prior to a planned Broadway bow. Center Theatre Group's decision to schedule these two plays for simultaneous runs proves fortuitous. Though vastly different in style and tone, their sharp observations on racial bigotry and social hypocrisy qualify them as fascinating companion works.
"Clybourne Park" is blisteringly funny, though it's not as potent a skewering of middle-class savagery as was Norris' scorching semi-surrealistic comedy "The Pain and the Itch." After a verbose beginning, "Clybourne" begins hitting its comedic stride. Taking place at the fictional 406 Clybourne Drive, in a white residential district in Chicago, Norris' play picks up shortly after Hansberry's climactic scene in "Raisin," in which the African-American Younger family refuses to allow Karl Lindner, a Caucasian residing on Clybourne, to bribe them into reconsidering their impending move to a home in his racially segregated white neighborhood.
An upwardly mobile couple, chatty Bev (Christina Kirk) and foul-mouthed Russ (Frank Wood), are preparing to move out of their Clybourne Drive home following a family tragedy. Taking the reverse tactic from his manipulative actions in "Raisin," the desperate Karl (Jerermy Shamos) has arrived with his pregnant wife, Betsy (Annie Parisse), in tow, hoping to talk Bev and Russ into canceling their move, thereby preserving the white sanctity of the neighborhood. Pulled into the ensuing fray are an African-American couple, housekeeper Francine (Crystal A. Dickinson) and her husband, Albert (Damon Gupton).
Act 2 flashes forward to 2009 at the same address, which is now within a gentrifying black neighborhood, and the actors take on new roles. New owners Steve (Shamos) and his pregnant wife, Lindsay (Parisse), are preparing to demolish the worn-down house and build anew. Also present are their lawyer Kathy (Kirk); Lena and Kevin (Dickinson and Gupton), a black couple from a neighborhood organization; and their lawyer Tom (Brendan Griffin). Some characters are relatives of those introduced in Act 1, and Lena is a relative of the matriarch of the same name in "Raisin." All hell breaks loose when a discussion of housing codes gives way to debates about racial differences and social prejudice.
Director Pam McKinnon adeptly guides a strong ensemble through Norris' steady stream of comic explosions. Particularly impressive is Dickinson's impassioned take on Lena, who picks up on thinly veiled words of condescension and fights back. The forceful Wood is frequently uproarious as the angry Russ, achieving a superb chemistry with the excellent Kirk, as Bev.
Design elements are exemplary, highlighted by Daniel Ostling's richly detailed set, credibly altered for the 50-years-later action following intermission. Ilona Somogyi's costumes excellently convey the play's two periods, and Alan Lee Hughes' textured lighting is likewise first-rate.
Norris and Hansberry are major voices in the American theater, and Center Theatre Group's pairing of their related plays offers a terrific double-dip treat.
Presented by Center Theatre Group at the Mark Taper Forum, 135 N. Grand Ave., L.A. Jan. 25–Feb. 26. Tue.–Fri., 8 p.m.; Sat., 2:30 and 8 p.m.; Sun., 1 and 6:30 p.m. (Tue.–Fri., Feb. 21–24, are student-only performances.) (213) 628-2772 or www.centertheatregroup.org.