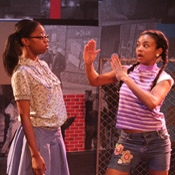 In playwright Michael A. Shepperd's lesbian teen drama, based on April Sinclair's novel, the rise of the civil rights movement is twinned with the sexual awakening of a young black girl in the 1960s.
Gangly Chicago 12-year-old Stevie (Diona Reasonover) is on the cusp of becoming a woman; the typical traumas of adolescence are compounded for her because she lives in a tough South Side neighborhood, where her bank-teller mother (Cecelia Antoinette) tries as hard as possible to do the right thing by her. Like many teenagers, Stevie finds herself desperately wanting to be accepted be the "cool" kids, including tough and smart classmate Carla (Charlene Modeste). Yet, Stevie finds herself confused by her longing to be liked by tomboy basketball player Willie Jean (Colette Divine).
When she enters high school, Stevie watches as Martin Luther King Jr.'s rise brings hope to her community, while his assassination brings despair. She also comes to realize that she's "funny" in a way that most of the other girls aren't, and she finds herself falling in puppy love with her school's beautiful and kindly nurse (Gretchen Koerner), who is able to bring off that white uniform and sensible shoes in a way that would delight any reader of the poetry of Sappho.
Shepperd's play is clearly aimed at a young audience, which accounts for the perhaps overly sincere atmosphere and the tendency to lecture when a lighter dramatic touch would be far more effective. Although the play's digressions into stock themes of black history are flatly told and recycled, the coming-of-age elements -- and in particular the focus on Stevie's budding sexuality -- are quite moving.
The uneven pacing of director Nataki Garrett's production is occasionally hampered by Shepperd's bloated script and by the varied experience levels of her sprawling ensemble. Some performers are powerful and moving, but others offer the awkwardly stilted and slightly embarrassing acting of adults in their 30s and 40s pretending to be in their early teens.
That said, Reasonover's varied and nuanced turn as Stevie is powerful: The way her character ages believably from goggle-eyed, pigtailed nerd to sexually aware and proud girl-woman is downright stunning. Her character's relationship with Antoinette's beautifully warm and pragmatic mama is also nicely depicted.
Presented by and at the Celebration Theatre,
7051-B Santa Monica Blvd., Hollywood.
Thu.-Sat. 8 p.m., Sun. 3 p.m. Apr. 18-May 25.
(323) 957-1884. www.celebrationtheatre.com.