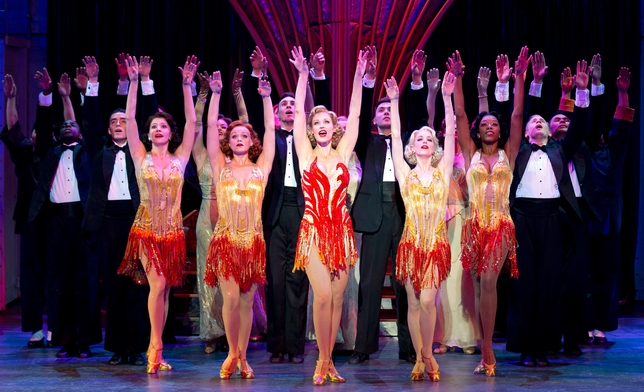 That beatific smile on Rachel York's face said it all after her smoky-frisky rendition of "Blow, Gabriel Blow" stopped "Anything Goes" for the second time on its opening night at the Ahmanson Theatre. Ever the pro,Yorkwaited out the applause and sang out her next line: "Hallelujah!" Hallelujah indeed, for the fact that there still exists an appetite for the champagne fizz of a Cole Porter rhyme and for performers like York and Erich Bergen, who know how to pop the Porterian cork. Exultations also for director-choreographer Kathleen Marshall and the team at Roundabout Theatre Company, which launched the 2011 Tony Award–winning revival on the road with its class intact.
Even with a new book by Timothy Crouse and John Weidman, "Anything Goes" remains pretty corny stuff. The stakes are not high; the musical has no villain or real conflict. Some very famous and still infectious Porter songs make their appearance, not out of any plot necessity but because, well, they're "De-Lovely" and there's many a time in the show when its businessmen, heiresses, and gangster molls need to shut up and sing.
Past productions of "Anything Goes" have embraced the cornball and slapstick with far more relish. Here you get a few cheeky costumes and a couple of sight gags. By and large, however, Marshall's company is playing things straight, no nudges or winks. To them the tale matters, and it shows. This restraint may have influenced Fred Applegate, as Moonface Martin, and to a lesser extent Dennis Kelly, as Elisha Whitney, to pull back. Indeed, Applegate often looks like he's coasting, practically rolling his eyes during "Be Like the Blue Bird."
On the other end of the spectrum, you've got York, as Reno Sweeney, crooning, dancing, and smiling her guts out while making it all look effortless. Consider the eight-minute tap marathon accompanying the title number. Reno both sings it and leads the chorus line, the only principal onstage. The actor played this role in L.A. a decade ago for Reprise, when she was 31, and the demands were nowhere near this intense. Now here she is on the road, with a Mae West purr to her lines and solid comic timing, not having lost a step.
The production's other revelation is Erich Bergen. As Billy Crocker, the slightly puckish romantic lead bent on winning over an heiress, Bergen mixes old-school charm, matinee-idol looks, and a ton of charisma. He really is the top. His Billy and York's Reno would probably make a swellegant pair, even if Alex Finke's Hope Harcourt and Edward Staudenmayer's Lord Evelyn Oakleigh are more than ample consolation prizes.
A final nod and a sad goodbye to costume designer Martin Pakledinaz, who died in July and to whose memory the production is dedicated. His suits, evening gowns, and sailor regalia help ensure that this "Anything Goes" is properly dressed up. Marshall, York, and company take it from there.
Presented by Center Theatre Group and Roundabout Theatre Company at the Ahmanson Theatre,135 N. Grand Ave., L.A. Nov. 28–Jan. 6. (213) 628-2772 or www.centertheatregroup.org. Casting by Jim Carnahan and Stephen Kopel.
Critic's Score: A-