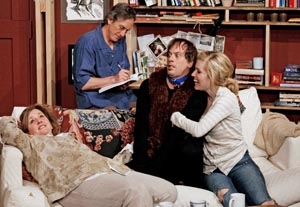 According to Laura Richardson, "Say the word
mother
and it brings up so much material" that one might be able to compose a play around it, which is exactly what she has done in this play. In the screamingly dysfunctional Maloney clan, the failed artist husband (Scott Paulin) tries to wrench the lock off the liquor cabinet, one daughter (Danielle Weeks) has written a thinly veiled novel based on her family's missteps, and a pair of woebegone 30-something siblings (Jennifer Erholm and Brendan Bonner) still live at home. Yet the heart of the tribe is surely the mother (Wendy Phillips), who wonders with every problematic revelation if she's the underlying cause of the family's innumerable tribulations.
Under the sharply tuned direction of Martha Demson, this dream cast could wrestle a new wrinkle out of any well-worn theme. Phillips delivers the matriarch's brand of acerbic humor with perfect timing, letting her menopausal mom fall somewhere between Eve Arden deadpan and Shirley Booth lovability. Bonner is a standout as the closeted son who refuses to admit his preferences, even though his passion for being "Fred" to the lovestruck Sandra (Briana Mandel), his "Ginger" in productions at the local community theater, is a dead giveaway. Still, what brings endless tears of laughter to the proceedings is Jason Paige, who plays the household pooch with the quintessential blend of vacancy and self-absorption. Everything Horny does is downright hilarious, from humping legs with hypnotic conviction to trying to get the bickering family's attention before taking a considerable dump on the rug.
Too bad Paige's antics and Richardson's humor are not enough. Wouldn't it be interesting if someday some brave writer were audacious enough to attempt a play centering on a functional family—or is there such a thing? Adding an actor onstage to lick faces and scratch at the door gives this work a new twist. But, as much fun as it is to see Paige all but channel the title character, and as clever as Richardson's razor-sharp wit proves to be, the elephant in the Maloneys' living room isn't Horny; it's that we've seen these people and their quirky domestic predicaments explored many times before. And, when a heartwarming resolution sets in, one wonders how short-lived the happy ending will be.
Presented by Second Story Group at the Lost Studio, 130 S. La Brea Ave., Hollywood.
May 16–June 20. Fri.–Sat., 8 p.m.; Sun., 4 p.m.
(800) 595-4849
.
www.tix.com
.