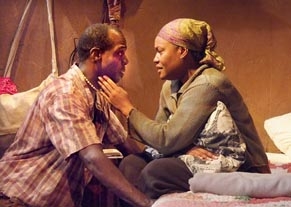 Athol Fugard's newest play still deals with the effects, or aftereffects, of Apartheid in South Africa—a subject he has explored and dramatically exposed since his first play, Blood Knot, in the 1960s. The Fountain Theatre is his "home in America," as he describes it. Coming Home is a definitive sequel to the state of South Africa.
Veronica Jonkers (Deidrie Henry) is coming home, as it turns out, to die in the village of her youth, where her beloved grandfather, Oupa Jonkers (the sensational Adolphus Ward), lived and died before her. As Veronica, Henry is totally stunning, in stature and in her singing, which chills the heart as it warms the soul in that heartbreaking way that gives one shiver-inducing foreknowledge of inevitable pain. Accompanying her is Mannetjie (a sweet Timothy Taylor), her 5-year-old son: a surprise for the neighborhood but a key reason for Veronica's return. In later scenes, the 10-year-old Mannetjie (a talented Matthew Elam) is feistily played for his anger at an unkind world. Greeting Veronica, with the past in his pocket, is Alfred (an adorable Thomas Silcott), her friend, neighbor, and local joke.
Although relishing the past, Veronica thrusts into the future with her fears and her plans for her young son to carry on her struggle for acceptance in a society that's not necessarily ready to accept outcasts and futurists in its tight little "colored" enclave. Not only that, she has AIDS.
The play is a cry of alarm, as well as a moving drama about a situation that's intense and divisive in a society not ready to admit its small-mindedness. Stephen Sachs' direction is sympathetic and heart-stirring, supported by Laura Fine Hawkes' set design, Christian Epps' lighting, and Shon LeBlanc's costumes. Highly emotional, ecstatically rendered, this production is rare medicine for Los Angeles theater.
Presented by and at the Fountain Theatre, 5060 Fountain Ave
.,
L.A. June 20
–
Aug. 29. Thu
.–
Sat
.,
8 p.m
.;
Sun
.,
2 p.m
. (
No performance July 4
.) (
323
)
663-1525 or www.fountaintheatre.com
.