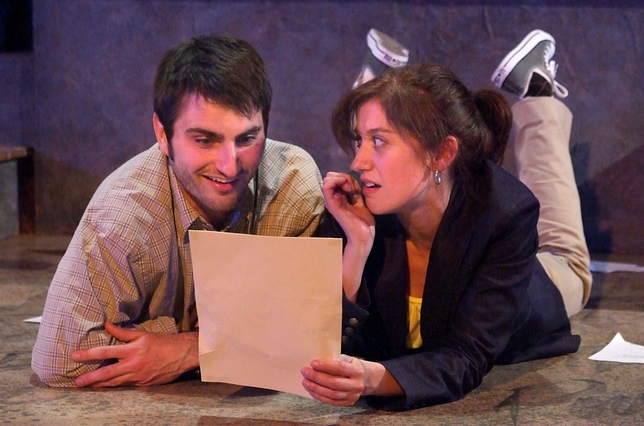 "Complete" is a piercing parody of the self-help movement, which spawned groups that many people have characterized as cults. Playwright Andrea Kuchlewska was trained at the age of 9 in the system called est, which used language in a very specific and unusual way. She subsequently became a linguistics major and is quoted as saying that both experiences inspired "Complete." In the play's fictional self-help group, the Program, being complete means successfully pursuing any goal you desire.
The story begins with Micah (Scott Kruse), a linguist, at a Program training session being conducted by Jack (Scott Victor Nelson) in a way that comes across as brainwashing. There are mantras such as "I create myself being successful" or "I create myself being harmed." The implication is that we cause whatever we feel or whatever happens to us. Micah is there because he can't seem to tell his colleague Eve (Meredith Bishop) that he loves her. He is unaware that Eve took the training as a child and became traumatized by some of its methods. In reaction to the perversion of language forced on her, Eve has become passionate about using language correctly, to a degree that is as comical as what goes on in the Program. She and Micah have collaborated on a paper they are going to present at a linguistics conference, and Eve is obsessing about a speaker's misuse of the word "myself." She is incensed that Micah is not equally bothered and becomes totally unhinged when she learns that he has joined the Program. Their argument becomes hilariously physical, and it seems they might not be able to present their paper.
The play goes back and forth in time, and director Jennifer Chambers, who was once a self-help coach, choreographs the action smoothly, so that we follow the time shifts easily. Under her guidance, the interactions between actors and audience flow effortlessly, and she has subtly interwoven the hilarity with stunningly painful moments.
Bishop is simply splendid. She is so focused and immersed in Eve's obsession with linguistic clarity that she is adorably outrageous. She is also gut-wrenching in her scene as Melanie, Eve's mother, who is torn apart and bullied by the training leader into accepting responsibility for being frightened after her ex-husband tried to kill her. Nelson has totally mastered the charming but ultimately reprehensible Jack. He is by turns smooth, seemingly sincere and committed, dogmatic, implacable, unyielding, and infuriating. Kruse is sidesplittingly funny in Micah's fight scene with Eve. He is all the more comical and sympathetic because of the vulnerability, insecurity, and innocence that he projects. Unfortunately, Tess Oswalt, as young Eve, is not yet ready for the stage. She tends to garble her lines, and her behavior is too mechanical.
In an ironic twist at the end, it turns out that the Program does sometimes help people, as through the training Micah finally finds the courage to profess his love.
Presented by Wilder Theatrics at the Matrix Theatre, 7657 Melrose Ave., L.A. Feb. 23–March 30. (323) 960-7822 or www.plays411.com. Casting by Michael Donovan.
Critic's Score: A-