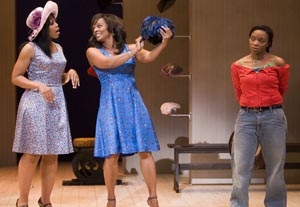 Regina Taylor's theater piece, inspired by a coffee-table book by Michael Cunningham and Craig Marberry, explores the journey of African-American women to find a sense of self-worth and social acceptance. It laboriously relies on the metaphor of hats to convey the self-pride and confidence these repressed souls display as they strive to assert their dignity and gain overdue respect. Director Israel Hicks and a skilled ensemble—Sharon Catherine Blanks, Vanessa Bell Calloway, Suzanne Douglas, Paula Kelly, Angela Wildflower Polk, Ann Weldon, and Clifton Derricks-Carroll—bring moments of warmth and joy to material that's too diffuse and repetitive to sustain itself for two hours.
The minimal plot is introduced through a rap song delivered by Yolanda (Polk), a disaffected Brooklyn urchin who witnesses the murder of her brother, then goes to stay with her grandmother (Kelly) in South Carolina. The women she meets are given names, but there is little attempt to provide them with sharply distinguishable character traits. The episodic collage of monologues, songs, and dances is structured around the church. Seminal life events—funerals, weddings, and more—find the women out in their Sunday best, proudly sporting decorative hats as if they were medals of honor.
After a talky first half, vibrant gospel-style group numbers dominate the proceedings, providing the evening's most entertaining element. Surprisingly, for a show that has civil rights and the emancipation of women as its backdrop, the mood seldom goes beyond exuberance, and the characters' descriptions of pride in their hats sound too much alike. Music director–arranger Eric Scott Reed and his three-piece combo offer first-rate accompaniment, and Keith Young's minimal choreography is pleasant. Kelly is a standout, courtesy of her vibrant energy and almost regal bearing, enhancing the theme of cultural pride. Triple-threat Derricks-Carroll is superb in various roles, particularly when he appears as a charismatic preacher. Though this musical falls short of profundity, the feel-good vibes it generates might be enough to satisfy audiences out for an uplifting time.
Presented by Ebony Repertory Theatre at the Nate Holden Performing Arts Center, 4718 W. Washington Blvd., L.A. May 8–June 14. Thu.–Fri., 8 p.m.; Sat., 2 and 8 p.m.; Sun., 3 p.m. (323) 964-9766 or www.ebonyrep.org. Also at the Pasadena Playhouse, 39 S. El Molino Ave., Pasadena. July 10–Aug. 23. (626) 356-7529 or www.pasadenaplayhouse.org.