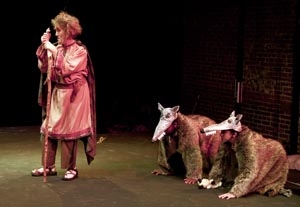 When you give a characterization your all, it pays off in big ways—even in the eyes of the smallest audience members. Children's theater, especially when performed outdoors, takes gallons of energy, heaps of concentration and goodwill, and a willingness to exaggerate your characterization—whether a haughty queen, a confused princess, or a big dork.
Shakespeare's "Cymbeline" for kids? The Actors' Gang surely would edit out the bit about King Cymbeline's daughter Imogen waking up next to a beheaded man. Bah! It's one of the production's funniest bits, thanks in no small part to Kharen Zuenert's costuming. The play is adapted by Angela Berliner—music and dancing included—with enough cleverness for the parents, enough setup and punch for the children, although your kids will probably have to explain Shakespeare's plot to you. Will Pellegrini directs with all audience members in mind, and his set—a canopy of drop cloths painted with clouds, plus two portable cardboard thrones—is all we need for our imaginations to start up.
That actor who gives his all, even to a kids show? That's Adam Jefferis, who plays Cloten, the queen's son. He kvetches, he pratfalls, he burps the alphabet. When a tiny tot snagged Cloten's binoculars from the stage, Jefferis snarled, "Aah, you can have 'em." His character fills the park, as does his voice, which he uses excellently.
Donna Jo Thorndale also gives much as the queen, with a hilarious Italian accent we're sure is not on her résumé. As Imogen, Erin Anderson gets funnier once she disguises herself as a man, fearful of bugs and getting rocks in her shoes as she scampers through the forest. Also graciously sweating in the sun on weekend mornings to entrance young audiences are Steven M. Porter as the puppet king, Mary Eileen O'Donnel as Scottish servant Belarius, and Kirstin Hinton as Imogen's twin. The Gang makes wonderful use of local schoolchildren, creating an ensemble of Jorge Deneve, Eliana Pipes, and Glenda Nicks, who blend right in with the pros.
Presented by the Actors' Gang at Media Park, 9070 Venice Blvd., Culver City.
July 25–Aug. 30. Sat.–Sun., 11 a.m.
(310) 838-4264. www.theactorsgang.com.