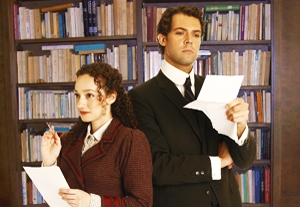 The world premiere staging of this ambitious two-person chamber musical from librettist-director John Caird ("Les Misérables," "Nicholas Nickleby") and composer-lyricist Paul Gordon ("Jane Eyre") leaves the impression that it might be more effective as a one-act. There's insufficient narrative to support the two-and-a-half-hour running time, and the structure—dominated by musical monologues—feels aseptic at times.
Recollections of the musical "She Loves Me" and the reader's-theater drama "Love Letters" seem unavoidable, as this tale of an ongoing correspondence between smitten individuals unfolds, although the 1912 novel by Jean Webster on which this is based predates these pieces. Set in New England during the early 20th century, the coming-of-age story commences when 18-year-old orphan Jerusha (Megan McGinnis) receives a surprise from an orphanage trustee, 30-year-old Jervis (Robert Adelman Hancock). He offers to send her to college and pay for all expenses, and he will remain anonymous. He requires her to write to him monthly, reporting on her progress, though he says he won't reply. She assumes he is elderly and thus refers to him as Daddy Long Legs, based on a distant peek of him through a window. The socially isolated philanthropist begins to fall in love with the maturing Jerusha, who blossoms during her education, so he contrives a situation to meet her, under another guise.
The play has little face-to-face character interaction. It consists mostly of introspective songs that express Jerusha's hopes, dreams, and emotional growth, many presented as the text of her letters. Prior to intermission, Jervis' primary participation consists of singing or reciting portions of the received letters. Subsequently, there's brief intermittent dialogue after the two characters meet. Gorgeous melodies and eloquent lyrics emerge from Paul Gordon's dense score, but the episodes and songs feel repetitive, leading to a sense of dramatic inertia. Tasteful restraint sometimes lapses into tedium in Caird's low-key staging.
The production's strongest asset is McGinnis' highly appealing and sensitive portrayal. She deftly conveys Jerusha's journey from bright and impetuous teenager to smart and sophisticated young woman. But too many songs express similar sentiments, and there's only so much a performer can do to find variety amid the 23-song score, plus multiple reprises. As the handsome, secretive benefactor, Hancock has even less to work with, and his characterization seldom advances beyond the bland. There's little in the material—or the performance—to illuminate Jervis' obsessive motivations and eccentricity.
David Farley's unit set and costumes and Paul Toben's lighting lend class to the proceedings, and music director Laura Bergquist leads an excellent six-piece offstage band. This heady musical might appeal to specialty audiences, though streamlining and retooling are needed.
Presented by Theatre Works, Cincinnati Playhouse in the Park, and Rubicon Theatre Company at the Rubicon Theatre, 1006 E. Main St., Ventura. Oct. 17–Nov. 8. Wed., 2 and 7 p.m.; Thu.–Fri., 8 p.m.; Sat., 2 and 8 p.m.; Sun., 2 p.m. (805) 667-2900. www.rubicontheatre.org.