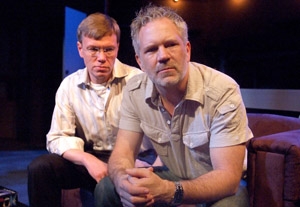 Dan Via's bittersweet play exceeds expectations, proving far richer than the formulaic rom-com that's suggested by its early scenes. Exploring complex relationships among urban gay men, this insightful and deeply affecting work, now in its West Coast premiere, is blessed with Rick Sparks' sensitive direction and a trio of exceptional performances.
Reprising roles that they played last year during the world-premiere Off-Broadway run, Via and Gerald McCullouch share a splendid chemistry as middle-aged professional colleagues who have enjoyed a longtime friendship. Ian Verdun plays Thee, the young biracial journalism intern who sparks a romantic interest in newspaper columnist Colin (McCullouch), causing a strain in the close bond between Colin and law professor Stewart (Via).
The characters in this resonant narrative can't be categorized as protagonists or antagonists. Each one earns our empathy through a credible amalgam of strengths and foibles. McCullouch excellently captures the effervescent spirit of a confident mature man with a weakness for seducing strapping young men on his soccer team, while warding off serious commitment. When Colin finds his Achilles heel—the warmth and physical attractiveness of the persistent Thee—his usual good judgment is compromised. Stewart's trepidations that there's something not quite right about the young man come across to Colin as jealousy. The play's crisp humor gives way to poignancy, despair, and a beacon of hope.
Via is a master at droll line deliveries, gradually making an impressive segue to the character's darker moments. Verdun's portrayal brims with grit and honesty. He superbly conveys the charm that Colin falls for and the aura of mystery that concerns Stewart. Verdun's performance comes full circle when Thee faces an emotional crisis. Adam Fleming's chic brown-hued scenic design, encompassing a gay bar and Colin's stylish apartment, is beautifully rendered. Sharell Martin's costumes and François-Pierre Couture's lighting greatly enhance the ambiance.
The hallmark of Via's smartly layered script is the way it subtly incorporates wide-ranging reflections on the joy and heartache that can accompany human relationships. By implication rather than by plot, this groundbreaking drama profoundly illuminates currently controversial issues surrounding same-sex marriage.

Presented by Theatre Planners at the Hudson Mainstage, 6539 Santa Monica Blvd., Hollywood. Jan. 8–Feb. 13. Fri.–Sat., 8 p.m.; Sun., 7 p.m.  (323) 960-7738. www.plays411.com/daddy.