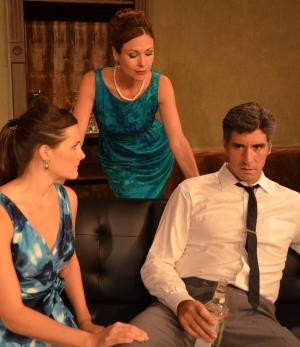 British playwright J.B. Priestley was famous for playing with time, but in this 1932 melodrama, he plays games with the truth. When the play begins, it's been more than a year since Martin Chatfield (Cortes Alexander) committed suicide, presumably because he'd been stealing money from the family firm. Now his brother Robert (Matthew J. Williamson) is hosting a dinner party at his home in Connecticut. The conversation is largely idle chit-chat, until one guest's casual remark about a handsome cigarette box that belonged to Martin leads inexorably to questions about Martin's death, and the possible culpability of all the party guests. Shocking revelations surface involving secret loves, embezzlement, marital infidelities, homosexuality, drugs, and possibly even homicide.
Bluff, confident Robert finds his world falling apart over the course of the evening as he learns that his wife Freda (Libby Baker) was having a long-term love affair with Martin, as was his male business partner Gordon (Jordan Wall). Robert's beloved brother is revealed as a vicious manipulator who played his friends against one another. And Robert's other business partner, Charles (Seth Peterson), is not quite the carefree bachelor he appears to be. The future looks bleak for everybody until a late plot twist turns the play inside out.
Director Gary Lamb has updated the play from 1930s England to 1960s Connecticut and, more radically, he has transformed the formerly offstage character of Martin into an onstage presence as a ghost who plays the piano, sings songs, comments on the action, and, in one case, instigates it. This adds undeniable entertainment value, providing opportunities for Alexander to sing some crowd-pleasing evergreen songs like "That Old Black Magic," but it tends to disrupt the play's sharp focus and lessen the dramatic tension.
Priestley's play is driven more by plot than character, so his characters offer vivid surfaces without much dimension, making it difficult for the actors to lend depth to them. Alexander brings wit, impressive keyboard skills, and an engaging vocal style to the piano-playing ghost, and Williamson carefully charts the arc of Robert's character as he moves from confident host to broken man in an evening. Baker provides a stylish turn as Robert's acerbic and unfaithful wife, and Rachel Amanda Bryant adds a spark to Gordon's frustrated wife Betty. Peterson, Wall, Tara Bopp, and Carol Goans offer solid support.
Costume designer Tanya Apuya created the women's stylish 1960s-style frocks, while co-artistic director William A. Reilly is credited with music box music arrangements. Unfortunately, the music box is largely inaudible, even in the front row.
Presented by the Crown City Theatre Company with Joanne McGee, Ben Rovner, William A. Reilly, Gary Lamb, Kimberly Bullock, and Matthew J. Williamson at Crown City Theatre Company, 11031 Camarillo St., North Hollywood. Sept. 27–Nov. 4. www.brownpapertickets.com.
Critic's Score: B+