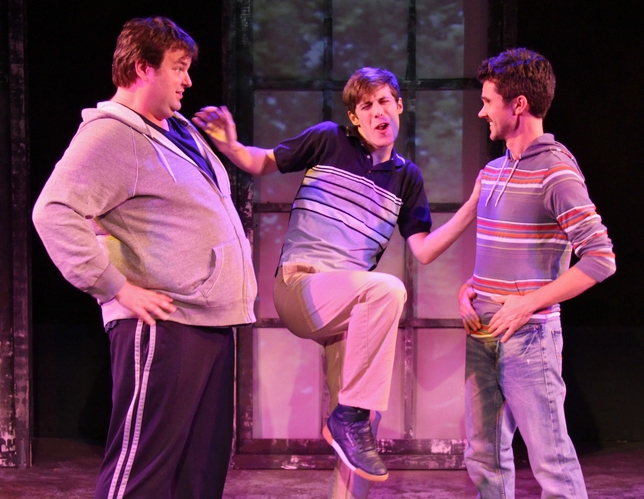 The musical "The Full Monty" is an ambitious choice to present in a small space for a myriad of reasons, not least of which is the notorious finale strip that finishes with full frontal nudity. Bright lights flashed directly into the audience's eyes disguised it in the original Broadway production. Here the accidental dropping of a well-placed hat makes that device something of an anti-climax, if you'll excuse the expression. Nevertheless, director Richard Israel is not someone to shrink from a challenge, and the result is a charmingly determined and slightly off-kilter production that in general benefits from the intimacy of its venue.
Since this adaptation of the 1997 British film debuted at the Old Globe in 2000 before heading to the Great White Way, the plight of this group of unemployed factory workers who in desperation decide to become strippers has only become more poignant, due to our current global financial crises. We can't help but empathize with the hapless Jerry Lukowski and his five frustrated buddies as they watch the women who pay their bills party at Chippendale's while they stay home, do the dishes, scramble for child support, and feel both their pride and libido melting away like an ice cube in August.
Terrence McNally's rather disjointed book has some great dialogue to redeem it but is overshadowed by composer David Yazbek's clever lyrics; whenever characters break into song it's apparent that the words have been written by someone else. Yazbek's score has good tunes, though none that stay with you beyond the final curtain. Israel and his team, including choreographer John Todd and musical director Johanna Kent, have assembled some excellent performers to help scale down "Monty" while still trying to keep it full. Mostly it works, though in the tiny Third Street Theatre, where more than voices travel, Jessica Olson's costumes should be cleaned more often.
Will Collyer is especially good as Jerry, although the uber-machismo he exhibits at the beginning dissipates as the proceedings continue—and not necessarily in character. Ryan O'Connor is expertly deadpan as Jerry's depressed plus-sized pal Dave, while Shannon Warne and Owen Teague are standouts as his patient ex-wife and adoring son.
Everyone else in this gung-ho ensemble has the right stuff, but the actors could have used another week or so before opening to settle in, even out their performances, and overcome the instinct to play musical theater to some nonexistent second balcony. The first big production number—in which the guys discuss their lives as discarded "Scrap"—is absolute perfection, with the men banging around the meeting room's folding chairs in unison with impressive precision. As the play progresses, however, it feels as if most of the rehearsal time was devoted to that number and the first act; each subsequent routine feels less assured. When the finale is nothing as dynamic as the promising opening, a few pickup rehearsals are still in order.
Presented by and at the Third Street Theatre, 8115 W. Third St., West Hollywood. Sept. 7–Nov. 11. Fri. and Sat., 8 p.m.; Sun., 2 p.m. (888) 718-4253 or www.showclix.com. Casting by Amy Lieberman.
Critic's Score: B