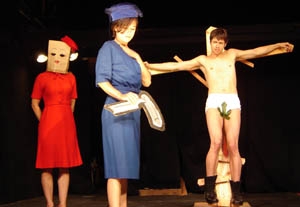 If you've ever yearned for a feel-good musical about Holy Wars and the end of civilization, this is it. Sorta. Writers Michael Ciriaco (book) and Brandon Baruch (book, music, and lyrics) have a shamelessly good time bashing the big business of God and humanity's desperate need for deities, in whatever shape or form, as does the appealing cast of their goofball, scrappily ambitious—albeit overlong—musical romp. Like any good religious tale, it's filled with sex and violence and cool costumes (Laura Wong). Baruch directs with attention to cardboard-cutout detail (Gabriel Flores' design), and standout performances keep us laughing even as the premise gets stretched thinner and sillier.
Presented by Murky Productions at the
Paul G. Gleason Theatre
, 6520 Hollywood Blvd., L.A. Thu., June 17, 8:30 p.m.; Sun., June 20, 6 p.m.; Tue., June 22-23, 9 p.m.; Fri., June 25, 8:30 p.m.; Sat., June 26, 5 p.m. (866) 811-4111.
www.hollywoodfringe.org
.