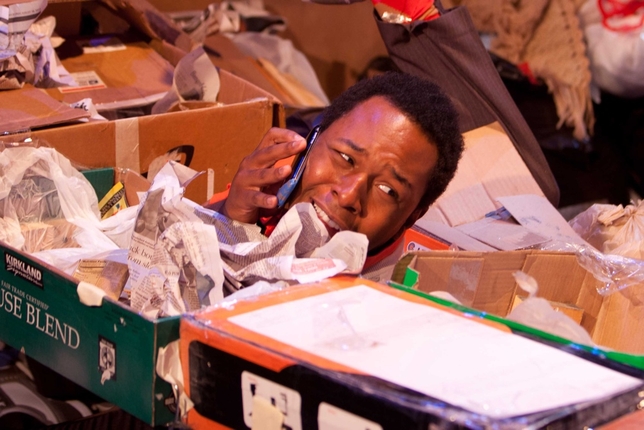 Hoarders and the pathology that spurs their obsessions form the crux of "Dirty Filthy Love Story" in its shrewdly appointed world premiere at Rogue Machine Theatre. Although playwright Rob Mersola's ultra-black comedy about an unregenerate keeper of junk and the kindred spirit who upends her doesn't quite fulfill its outrageous promise, the shaggily original narrative nonetheless lands a flatbed load of guffaws.
We first encounter Ashley Floerchinger (the valiant Jennifer Pollono) struggling with groceries and nattering with her mother via Bluetooth while trying to enter her homestead, initially seen as an abstract interior worthy of high school Ionesco. She is immediately accosted by gay neighbor Benny Steets (Burl Moseley). His partner walked out on him, he still hasn't landed a job after nine months, and he's finding it hard to sell his house, given the state of Ashley's next-door domicile. He threatens to call the authorities, which unnerves Ashley, whose husband left her some time ago for reasons better left unspecified.
In the opening five minutes it appears that Mersola has written a symbolic allegory in which the audience must imagine the detritus that envelopes its anti-heroine. But no sooner does Benny enter Ashley's living room than the painted-furniture wall falls forward in Buster Keaton manner, revealing co-designers David Mauer and Hazel Kuang's jaw-dropping piled-high setting. After this coup de théâtre, Benny, who breaks his leg when Ashley pushes a wall of boxes on him, employs a garbage man to help Ashley clean up: Halbert Shint (Joshua Bitton, a genuine find), a hangdog collector of "good stuff." Much of the fun comes from his and Ashley's idiosyncratic attraction, which charts a twisted romance that's equal parts "South Park" and Joe Orton. Then Benny returns, hobbling on crutches and full of Oxycontin, doubly determined to oust Ashley, and all hell breaks loose.
Director Elina de Santos expertly maintains the perverse energies with flagrant disregard for convention. Lighting designer Leigh Allen and sound designer Christopher Moscatiello keep the transitions crisp, and the actors hurl themselves into the chaos. Pollono, who at first seems too enervated, withholds Ashley's inner workings until necessary, and she and Bitton, whose Hal is a hilarious comic portrait, convey true nutbar chemistry. As the hapless Benny, Moseley should tone down his "MADtv"-level shtick to achieve maximum effect at the climax, but he's certainly farcically uninhibited.
Mersola, who penned the raw and rococo "Backseats and Bathroom Stalls" (aka "Love Sucks"), is a gifted comic writer with a flair for concealing embedded elements. It serves him well here, although the gory denouement, while logical enough on Mersola's terms, curiously feels like a cop-out. Without giving it away, there's something pat about the conclusion, which might be better served by an extension of what Benny and Hal discover. More boxes and duct tape and less tragicomic sentiment are indicated, but that still won't keep hipsters and A&E television fans away.
Presented by and Rogue Machine Theatre at Theatre/Theater, 5041 Pico Blvd., L.A. Nov.24–Dec.29. (855) 585-5185 or www.roguemachinetheatre.com.
Critic's Score: B