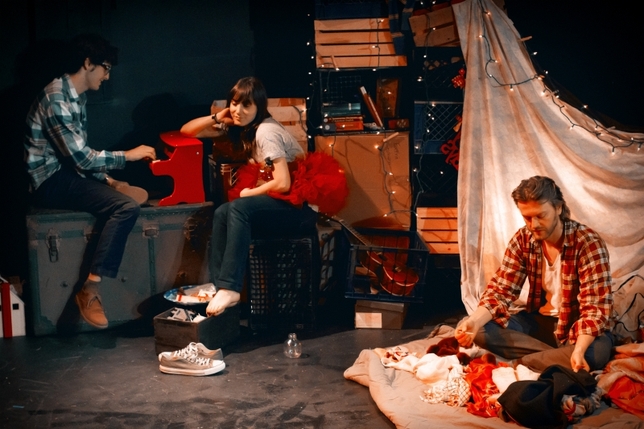 There's a lack of solid, ascertainable facts in the world premiere of playwright Louise Munson's "Do Like the Kids Do." Too many things are left vague, and there's no information in the program to fill the void, or even tell us the time and place of the play's three scenes. Harold Pinter has pioneered such tactics of mystification and withholding information—but for Pinter, this serves a purpose. Here, it is merely frustrating.
The play focuses on Claire (Amy Rosoff) and Patrick (Dean Chekvala), siblings who have come home to their mother's house for Christmas and find themselves facing a family crisis: Mom is suffering from a terminal disease, and there are serious questions about whether Mark, her live-in lover, can be relied on to take care of her. Both Claire and Patrick seem to live unfocused, unsatisfying lives. Patrick was always regarded as a genius but his genius has worn thin. He's become a teacher, while his real obsessions are chess playing and the Brazilian martial art of capoeira. When he ponders career choices, he considers becoming a journalist or a historian—or a bartender. Claire was simply labeled as "pretty," and has subsequently pursued a career as a not-too-successful actress. She's eager to reestablish a sense of family, but Patrick refuses to cooperate. They sing, bicker, and kvetch at length.
In scene two, the action has apparently shifted to the house of their father, his second wife, and their son Ian (an engaging Mark Saul). It's Christmas Eve, and Claire and Patrick indulge in drinking, smoking pot, and more circular conversations. When they are joined by younger, squarer half-brother Ian, they alternately torment and patronize him, persuading him to partake of booze and pot. Patrick seems to be riding on suppressed anger, and uses to his capoeira tactics to accidentally kick Claire in the head and repeatedly knock down unoffending Ian. Claire, increasingly drunk, alternates between aggression and withdrawal, and makes violent but abortive passes at Ian. Existential angst flows freely.
Scene three takes place sometime later, in an undefined wintry exterior. Mom has died, Ian has struck out to Bogota, Columbia, and Claire has decided to return to her acting pursuits in Los Angeles. Not much has been resolved, but there is a rapprochement of sorts between brother and sister.
Munson draws her characters skillfully, but without a fully articulated plot the scenes occasionally seem like stalled improvisations. On the plus side, the piece is often funny, and frequent audience laughter suggests that the problems and concerns of the characters resonate strongly.
Director Keliher Walsh deftly maps the emotional eddies, but due to the lack of action the actors bear more responsibility than usual in keeping the piece lively. They largely succeed. Chekvala relies on hyper-kinetic behavior to suggest Patrick's conflicted nature, while Rosoff offers strong moment-by-moment responses to flesh out the play's richest but least defined character. Saul lends sweetness and charm to Ian, the shy, diffident mama's boy who's alternately intimidated, fascinated, and challenged by his more sophisticated step-siblings.
Presented by Iama Theatre Company at Working Stage Theatre, 1516 N. Gardner St., West Hollywood. Nov. 10–Dec. 16. www.iamatheatre.com.
Critic's Score: C+