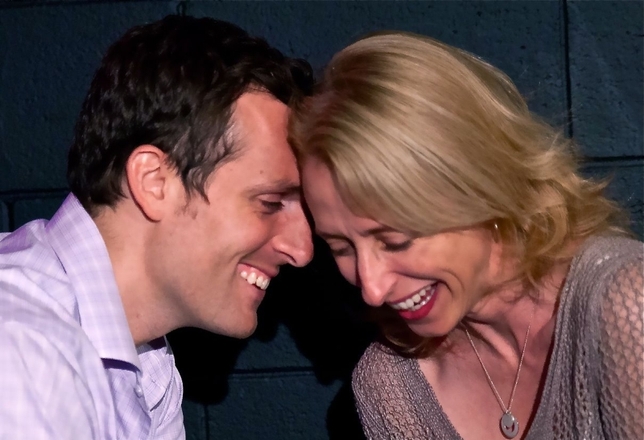 It's not hard to imagine why Carole Real has sold jokes to Joan Rivers and enjoyed success writing for primetime television; she is a very funny woman. Yet despite passionate efforts by director Jenny O'Hara and an excellent troupe of actors, the world premiere of Real's "Doesn't Anyone Know What a Pancreas Is?," her first fully produced full-length play, is too thin and predictable to sustain interest, even for an intermissionless 90 minutes. The characters' incessant whining and self-inflicted torments during their search for an issue-free soulmate in our emotionally calloused modern society offer few surprises, and Real's abrupt happy ending ties up everything so tidily that there's little reason to hang around for it.
It's easy to emphasize with poor Jason (Ian Alda), who is desperate to fall in love after a health scare and learning how bad it is to Google one's own disease. Lying in a hospital bed, enjoying his painkiller high as he peruses "O" magazine (because it has enjoyable shapes), he realizes he could have died without ever having a real girlfriend. So perhaps he starts dating too soon after surgery—apparent when the tube in his stomach leaks during a rendezvous with someone he met on the Internet. Humorous, yes, but while the plight of Jason and his group of friends navigating the minefields of true love is often hilarious, it's never fully realized.
Luckily for our playwright, the cast is golden. Alda is the quintessential schlub. He's so clueless that he needs his best friend Anthony (Will McFadden) to help choose clothes for his meeting with a potential conquest named Miranda (Heather Robinson), then doesn't heed her warning that she faints in squeamish situations—such as his cheerfully sharing the sight of his attached bag of lime green stomach bile. Liz Ross is particularly winning as Miranda's friend Laura, who has settled for a relationship with the annoying Josh (William Duffy), even if his photo of an engagement ring turns out to be a potential birthday present and not a proposal. Annika Marks is a standout as Candace, who appears to be Jason's perfect match until she reveals herself to be deeply conflicted about her seven years spent in a cult, acting out violently in public when anyone calls her "Candy."
There's heaps of potential here, and Real's skill for inventing biting one-liners is estimable. Unfortunately, there isn't one moment of her characters' behavior that is unexpected. Even when Miranda and Candace realize they dated the same guy (a performance artist named Aardvark who liked to be stapled) at about the same time, no potentially juicy conflict arises. In fact, we only learn from others discussing it in the following scene that the two women have become friends. Real continuously misses rich opportunities to create outrageous conflict, settling instead for more jokes. For now, her short filmic scenes, played out between unnecessary furniture shuffling in interminable blackouts, signal that perhaps she should stick to writing for television, where everything resolves neatly in the 22 minutes between Toyota commercials.
Presented by Ensemble Studio Theatre/LA at the Atwater Village Theatre, 3269 Casitas Ave., Los Angeles. Nov. 14–Dec. 13. (323) 644-1929 or www.EnsembleStudioTheatreLA.org.
Critic's Score: C+