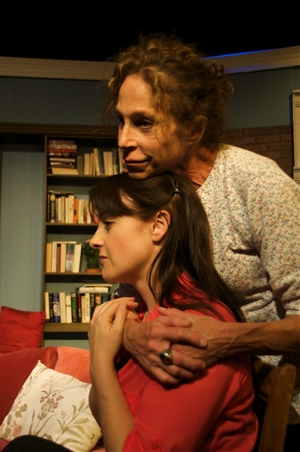 "Collected Stories," a two-character drama by Pulitzer Prize winner Donald Margulies, takes a searching look at the lives of a pair of writers, focusing on their friendship, ambitions, conflicts, rivalries, and betrayals. Ruth Steiner (April Lang) is an older, established Jewish scribe, famous for her short stories, who also teaches and advises young authors. When she agrees to mentor eager Lisa Morrison (Natalie Sutherland), she gets more than she bargained for.
At their first meeting Lisa is a sycophantic, hero-worshipping chatterbox who can't shut up about her admiration for Ruth. The tough, seasoned pro views Lisa's starry-eyed adulation with a jaundiced eye—but it is gratifying. In the course of their work together, Lisa overcomes her initial humility and begins to reveal her own grit, daring to question Ruth's advice and challenge her authority. She also pumps Ruth for details about herself and thehigh pointof her life: her long-ago romance withBrooklynpoet Delmore Schwartz.
When Lisa sells her first story—to a publication Ruth advised her against—Ruth is startled to discover that her formerly too-dependent protégée can be disconcertingly independent. Things come to a head with the publication of Lisa's first novel. Ruth discovers that the girl has appropriated her life story, her Jewish background, and her turbulent love affair with Schwartz—which Ruth always regarded as too personal to write about—as fodder for her book. Lisa claims it's an act of homage, but for Ruth it amounts to exploitation and plunder.
The lives of writers are notoriously difficult to dramatize, but Margulies pulls it off persuasively, showing the two women at work, which leads to their growing intimacy. Director Terri Hanauer elicits fine performances from her cast and expertly calibrates the shifts in the women's ever-changing relationship. Lang and Sutherland skillfully map their characters' arcs and contrasting personalities. Lang artfully captures Ruth's crusty, laconic style, offset by Sutherland's bubbly girlish enthusiasm. As Sutherland's Lisa grows in strength and confidence, Lang's Ruth succumbs to illness and growing frailty. The two women play off one another beautifully, underlining the love and affection Ruth and Lisa share as well as a lurking, unacknowledged hostility.
The wonderfully cluttered set by Josh Shaw is clearly a writer's workroom, crammed with folders, manuscripts, newspapers, and clippings and full of wonderful detail, including a stubborn window propped open with a book.
Presented by Langland Productions at Odyssey Theatre Ensemble,2055 S. Sepulveda Blvd.,L.A.Sept. 8–Oct. 14. Thu.–Sat., 8 p.m.; Sun., 3 p.m. (310) 477-2055 ext. 2 or www.odysseytheatre.com.
Critic's Score: A