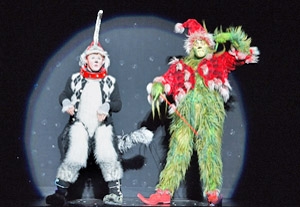 This bubbly confection, an annual offering at the Old Globe Theatre in San Diego for 11 years that was upgraded to a Broadway extravaganza in 2006, offers appealing family fare. Timothy Mason's book repurposes material that is likely familiar to viewers (derived from the children's book by Dr. Seuss and the 1966 Chuck Jones animated TV special). Running less than 90 minutes, the production elicits an ample measure of felicitous holiday spirits.
The L.A. premiere stars John Larroquette as the shaggy dog Max, who narrates the tale, along with the character's younger self (James Royce Edwards), seen during flashbacks. Stefan Karl co-stars as the creepy curmudgeonly creature of the title. In the village of Who-ville, populated by munchkinlike characters called the Whos, the citizens are joyously preparing for Christmas, but the good cheer quickly turns sour when we meet the Grinch, whose heart is said to be "two sizes too small." He hates Christmas and plans to ruin it for the villagers by stealing all their gifts and decorations. It takes the logic and caring of sweet little Cindy-Lou Who (charming Kayley Stallings at the production reviewed) to melt the heart of the treacherous heel, leading to a happy ending.
The mildly enjoyable score, by lyricist Mason and composer Mel Marvin, adds several mostly saccharine songs to two superior numbers by Dr. Seuss and Albert Hague from the TV special ("You're a Mean One Mr. Grinch" and "Welcome Christmas"). John DeLuca and Bob Richard have devised sprightly choreography, including entertaining slapstick tomfoolery. Yet the songs and dances feel repetitive; the creators presumably strived to pad the story out into a full-length musical.
Larroquette is lively and likable, and nimble Edwards is energetic and winsome. Karl's Grinch is too amusing to be frightening, yet he infuses the proceedings with welcome drollery, as when he chided latecomers during the reviewed performance. Among other standouts are Danny Gurwin and Melinda Gilb as the goofy Papa Who and Mama Who. John Lee Beatty's set, Robert Morgan's costumes, and lighting by Pat Collins and D.M. Wood offer a cornucopia of cotton-candy delights.
Presented by Broadway/L.A. at the Pantages Theatre, 6233 Hollywood Blvd., Hollywood.  Nov. 14–Jan. 3, 2010. Variable schedule.  (800) 982-2787. www.broadwayla.com.