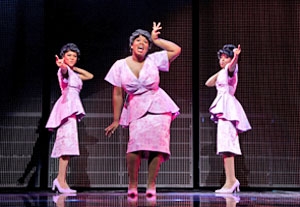 When this 1981 musical premiered, the original director-choreographer (Michael Bennett) and the creators (librettist-lyricist Tom Eyen and composer Henry Krieger) steadfastly denied suggestions that the narrative is a thinly disguised portrait of the rise of the sensational 1960s doo-wop group the Supremes. Yet the Tony-winning show is widely regarded as a supreme entertainment. It remains highly evocative of the rhythm-and-blues craze of the '60s, when landmark performers such as the Shirelles and James Brown ruled the roost. Director-choreographer Robert Longbottom's touring revival is a knockout, cast to perfection and blessed with a stellar visual style and musical splendor.
Eyen's pulpy book provides a deftly crafted framework for a blockbuster attraction filled to the brim with delicious elements. Though the electrifying look of this production (Robin Wagner's eye-popping scenic design, William Ivey Long's remarkable costumes, Ken Billington's terrific lighting, Howard Werner/Lightswitch's thrilling multimedia effects) is a wonder to behold, the heart of the production is the exemplary cast.
Foremost among the triple-threat talents is Moya Angela in a role that is already iconic: the passionate survivor Effie, the outcast diva of the fledgling singing trio the Dreams. Effie's "And I Am Telling You I Am Not Going" is the most stunning nervous-breakdown-in-song since "Rose's Turn" in "Gypsy," and Angela's bravura delivery is like a carnival thrill ride. This role won a Tony for Jennifer Holliday and an Oscar for Jennifer Hudson, and it's to Angela's credit that she lives up to that legacy without approaching imitation. Following this heart-wrenching number, she shows the character's resilient side in the joyous "I Am Changing." Playing Effie's two singing cohorts, Syesha Mercado as Deena offers a nicely nuanced characterization plus a terrific singing voice, and Adrienne Warren as Lorrell gives a warm portrayal of an admirable young woman with an iron will.
Next to Angela, Chester Gregory—a superstar in the making—pulls off the most formidable showstoppers. As Jimmy "Thunder" Early, a narcissistic singer in a James Brown vein, Gregory tears up the stage as a rebel performer insisting on doing things his way, despite the cost. There are also colorful, fully realized characterizations from Chaz Lamar Shepherd as the group's barracuda manager Curtis, and glamorous Margaret Hoffman as Michelle, the replacement Dreamette after Effie is ousted. For those who love this musical, this faithful though imaginative revisit will thoroughly satisfy, while newcomers can anticipate a dream come true.
Presented by Center Theatre Group at the Ahmanson Theatre, 135 Grand Ave., L.A. March 2–April 4. Tue.–Fri., 8 p.m.; Sat., 2 and 8 p.m.; Sun., 1 and 6:30 p.m. (Dark Wed., 8 p.m., March 10 and Sun., 7 p.m., April 4. Added Thu., 2 p.m., April 1.) (213) 628-2772. www.centertheatregroup.org.