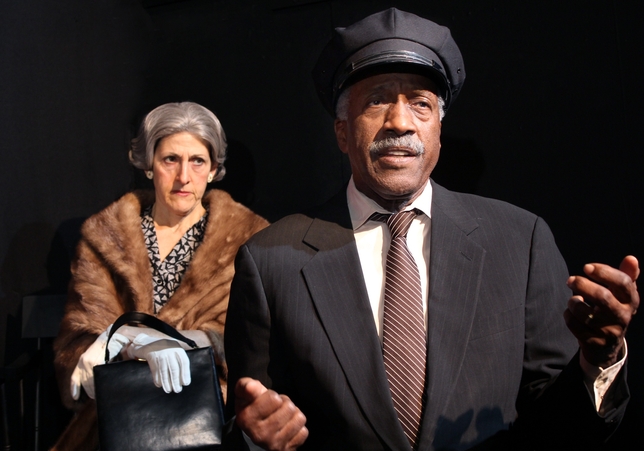 Alfred Uhry's poignant 1988 Pulitzer Prize winner about the unlikely 25-year friendship between a crusty, affluent Jewish woman living in Atlanta and her black chauffeur is getting a first-rate production at the Sierra Madre Playhouse. With minimal effects, including a spare set, the underlying values in "Driving Miss Daisy" are skillfully brought to the fore by director Christian Lebano, who stages the proceedings with great sensitivity while maintaining a solid pace that keeps the action moving.
The story begins in 1948, just after Daisy Wertham (Mary Lou Rosato), a feisty 72-year-old widow, has wrecked her car. Insisting that Daisy can no longer drive and must have a chauffeur, her son, Boolie (Brad Reed), hires Hoke Colburn (Willie C. Carpenter), an African American who professes to prefer working for Jews. The fiercely independent Daisy resents Hoke's presence and refuses to let him drive her at first, but she comes to rely on him more and more as their friendship evolves.
At one point the temple Daisy attends is bombed by a racist group, and the incident prompts Hoke to recount the lynching of his childhood friend's father. It is a defining moment for Daisy, who has unconsciously harbored some prejudice of her own but is forced to see that she, as a Jew, is a target for the same bigotry Hoke suffers.
Time passes. Then, one day in 1971, Hoke finds Daisy exhibiting signs of agitated dementia. When he manages to calm her, she gently tells him that he is her best friend. Two years later Hoke visits Daisy, now 97, at the retirement home where she resides, and in the play's final moments the deep bond that has been forged between them is unmistakable.
The seemingly simple story plumbs issues of aging, race relations, class, and the human need for connection, all illuminated by a cast of actors at the top of their game. Rosato owns her character completely, eliciting laughs while not playing for them and subtly conveying the neediness at the heart of Daisy's combative nature. Rosato's expressive face communicates a world of emotions; without a word being uttered, her final moments onstage speak volumes.
Carpenter imbues Hoke with an innate dignity and kindness that command attention. He makes it clear that when Hoke stands up to Daisy, his behavior emanates from a core of self-respect rather than hostility. Both actors handle their characters' aging process with finesse, delicately capturing changes in movement, bearing, and speech.
Reed gives a full-bodied performance as Boolie, projecting an air of tolerance and generosity. When Boolie declines his mother's invitation to a dinner honoring Martin Luther King because it would damage his business relationships, Reed projects a cynical acceptance that has more impact than an overt display of anger.
Although it is something of a trek to the town of Sierra Madre, Los Angeles theatergoers will find this journey well worth the effort.
Presented by and at the Sierra Madre Playhouse, 87 W. Sierra Madre Blvd., Sierra Madre. Jan. 18–March 9. (626) 355-4318 or www.sierramadreplayhouse.org.
Critic's Score: A