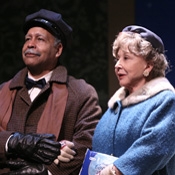 Alfred Uhry's first play (1987) is a model of simplicity that manages, in a compact, intermissionless 90 minutes, to depict the world of Jews in the deep South and, through its introduction of a black character, to raise issues of prejudice, whether whites toward blacks or gentiles toward Jews. Gentle, inoffensive humor is the play's hallmark as it traces the relationship between the cranky "Miss" Daisy Werthan (Michael Learned), 72 at the play's start in 1948, and Hoke (Lance E. Nichols), a friendly, loquacious 60-year-old black man hired by Daisy's son Boolie (Morgan Rusler) as her chauffer when her driver's license is pulled after a collision. The willful Daisy is suspicious of others, but Hoke is so earthy, polite, good-natured, and honest that she can't help but grow fond of him. The growing bond between Daisy and Hoke unfolds as a series of brief vignettes, and whether going for laughter or pathos, Learned and Nichols hold closely to the text's genial nature. By play's end, Daisy and Hoke are creaky and slow-moving, yet as comfy as an old married couple.
Nichols sketches the stereotypical subservient black who always comes out on top via his caginess with a buck, ability to laugh at himself first, and a sense of self-worth masked by outward humility. Learned soft-pedals Daisy's abrasiveness, showing her as iron-willed but always ladylike, her voice fluttery whenever she's rattled -- often, that is. Rusler's Boolie is a take-charge sort, accustomed to his mother's aggravating ways. Director Brian Kite gives his trio of actors smooth entrances and exits. The mass appeal of his staging is reflected in John Iacovelli's spacious, uncluttered set, whose clean, elegant furnishings roll on and off during between-scene blackouts. Sound designer Craig Wolynez's arrangements of the music Robert Waldman wrote for the original Off-Broadway staging are softly evocative.
Presented by McCoy Rigby Entertainment in association with and at the La Mirada Theatre for the Performing Arts,
14900 La Mirada Blvd., La Mirada.
Tue.-Thu. 7:30 p.m., Fri. 8 p.m., Sat. 2 & 8 p.m., Sun. 2 & 7 p.m. Feb. 2-17. (562) 944-9801 or (714) 994-6310. www.lamiradatheatre.com.