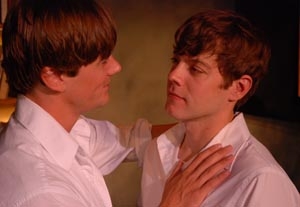 A teenage boy with father issues. Yeah, yeah, yeah, we've all heard that one. But when this particular boy is a German, living in Paraguay within a tight-knit community of ex-military expatriates since 1944, there's a different story to tell—one in which a son might ask, "What's Hitler's picture doing on your desk, Dad?" Canadian playwright Hannah Moscovitch's sharply stylized examination of one young man's search for identity and redemption is not afraid of jarring questions or biting, dark humor. And in its bang-up American premiere, the play takes us on a fascinating journey.
Rudi is 17 when he learns from a classmate that Rudi's father, now a real estate kingpin, was not only a loyal German soldier; he was a Nazi war criminal—an SS physician known for his experiments on human subjects in the camps. The news doesn't exactly send Rudi reeling; he might have always suspected something of the sort. The script masterfully weaves the issues of complicity and guilt throughout this layered work, making the audience an invested character. Directors Christopher CB Brown and Sara Botsford have a terrific handle on the material. As Rudi, Russell Sams is excellent, painting a quirky, physicalized portrait of conflict. He and James Barry as his friend Hermann have fabulous chemistry; their portrayals have an artifice about them that suits the style of the piece perfectly. Indeed, the design elements—especially Lacey Anzelec's small, tidy set in shades of brown and gray, and Luke Moyer's brilliant lighting—on top of the precisely choreographed action make this a package that's hard to resist.
But the story becomes more problematic as we become involved with another character, Sarah (a lovely Carolyn Stotes). We're a bit ahead of the game here, and the playwright's beautifully truncated, intentionally awkward dialogue begins to act as a barrier rather than drawing us in. But even distanced from the play's powerful closing images, we still feel the impact and leave with the right sort of questions.
Presented by the NoHo Arts Center Ensemble and 49th Parallel Theatre at the NoHo Arts Center, 11136 Magnolia Blvd., North Hollywood.
June 5–July 19. Fri.–Sat., 8 p.m.; Sun., 3 p.m. (818) 508-7101, ext. 7 or
www.nohoartscenter.com.