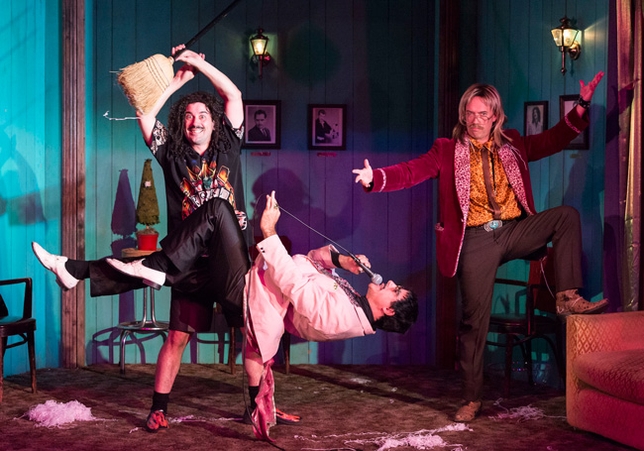 Nod off in "Elephant Room" and you may upon regaining consciousness think you've been teleported into a minor Las Vegas show in the dingy lounge of a lesser hotel somewhere off the Strip. The elephant in this room is the "Wayne's World" inanity delivered by three infectiously silly performers executing some impressive magic tricks, when they're not dancing badly or receiving late-night phone calls from the Dalai Lama. But is it theater? And if not, should we care?
Daryl Hannah, Dennis Diamond, and Louie Magic are ultra-nerdyPaterson,N.J., miscreants who desperately want success. They are what might have become of those other local residents David Copperfield and Criss Angel if Terpsichore had not gifted those guys with fame, fortune, and a plethora of busty babes. Our heroes have coped well with their lot in life, however, performing their tricks in a terminally turquoise wood-paneled basement room that could belong to a neighborhood church or perhaps be the rec room of one of their more accepting parents' homes. Between gyrating badly and shaking their time-warped locks in unison to dubiously classic Aerosmith, they relate how difficult it was to transport their clubhouse to Culver City and what the guys call the Michael Douglas Theatre, especially since they have plunked it down—shag carpeting, stuffed pheasants, tattered couches, framed photos of minor magicians, and all—three feet above the stage on stacked cinder blocks. That, of course, allows the audience to see that there are no visible conspirators under the floor helping them to create their illusions.
The magic is awesome, even if we've seen it before, as executed by Copperfield and Angel. Between tricks—which include whiskey bottles appearing from nowhere, deep-throating a party-sized sub sandwich–length balloon, and transforming an unsuspecting audience member into Hannah with no apparent strings or trapdoors involved—the three expert comedians entertain us with homebrewed philosophy ("You went out seeking and stuff but still you ended up here") and that surprise phone call from the aforementioned Tibetan guru ("Why, hello, Dalai"). Diamond chides him for his behavior, reminding the Dalai Lama that if he tries to take care of every other sentient being on the face of the planet and not himself, he's going to get sick.
Under the brilliantly off-kilter direction of Paul Lazar, one of the most guarded mysteries is why—despite their lengthy program bios and stage reminiscences detailing their background studying with Native American medicine men, working Carnival Cruises, and being bound up as a kid by the dubiously motivated proprietor in the backroom of his local magic shop—Hannah, Diamond, and Magic so closely resemble "Elephant Room" creators Trey Lyford, Geoff Sobelle, and Steve Cuiffo. But who am I to give away secrets they hold so dear? No, "Elephant Room" may not be theater—or work as well as it could in a more intimate setting—but still it's great fun and astounding to watch. And you don't have to drive five hours to Vegas to do so, though that's really where it belongs.
Presented by Center Theatre Group at theKirkDouglasTheatre,9820 Washington Blvd.,Culver City. Aug. 26–Sept. 16. Tue.–Fri., 8 p.m.; Sat., 2 and 8 p.m.; Sun., 1 and 6:30 p.m. (213) 628-2772 or www.centertheatregroup.org.
Critic's Score: B+