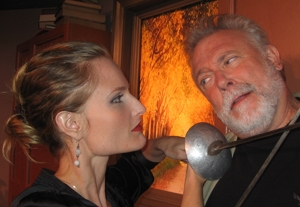 Abraham Alan Ross' play jumps headfirst, in a humorously contemporary manner, into the longstanding fray about the authorship of Shakespeare's plays. Elizabeth Shakespeare (Pia Pownall) presents her credentials—an unsubstantiated will of Will, the bard of Avon—and does what any right-thinking heir would do: She hires deadbeat private eye Tad Maxwell (Chris DeCarlo) to track down her claim and get the goods for her. Maxwell, whose given names are Theodore Androclitus Demetrius, happens to be a Shakespeare buff and a bit of a necromancer. This allows him to conjure up the likes of Edward DeVere—the 17th earl of Oxford, one of the Shakespeare write-alikes—and old Will (a very reassuring James Schendel, who handily essays these and the rest of the male roles) on his super Ripley's (believe it or not) Living Screen, which sheds no light on the legitimacy of the will or on Elizabeth's far-out claim but has a lot of fun with a patchwork of familiar Shakespeare quotes. The language-loaded play is aimed primarily at a liberally schooled audience, getting gentle nods of recognition and a few laughs from Shakespeare insiders but unfortunately a walkout at intermission on opening night from those who aren't.
DeCarlo succeeds handsomely, through an amusing stage presence, as the well-read P.I. with a great memory. Pownall seems to only be miming beauty and passion, and can scarcely be heard beyond the footlights when she addresses the upstage scrim. The swordplay between the P.I. and the wannabe heir to the Shakespeare "fortune" is ridiculous and physically awkward, but Elizabeth gets what she wants, as most well-put-together females do, including a swooning set-to with the gumshoe, an introduction to Philip Harcourt (the ubiquitous Schendel), and a coveted position accompanying him on his Shakespearian roundabouts. Evelyn Rudie directs with apparent passion. Fine set design and lighting (the latter in trouble on opening night) are by James Cooper; costumes by Ashley Hayes, sound and computer graphics by Nima Ghassemian, and graphic design by the Attic Room.
There's more here than meets the eye, but it's not quite enough to keep the groundlings connected and happy. Maybe more cakes and ale?
Presented by and at the Santa Monica Playhouse, 1211 Fourth St., Santa Monica.
Sept. 18–Oct. 24. Fri.–Sat., 8 p.m.; Sun., 6 p.m. (310) 394-9779, ext. 1. www.santamonicaplayhouse.com.