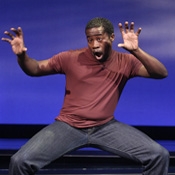 It is essential to the success of Daniel Beaty's one-person, Obie Award-winning show that he has chosen a propulsive event and central metaphor: a sunken slave ship re-emerges from the murky depths of the Hudson River off Manhattan. The actor-writer's facility for remarkably fluid transitions in characters and voices takes us on a tour of black characters affected by the ship's iconic and transcendent appearance. Rodney and his gay brother are concerned with that day's taping of America's Next Top Poet, but their father, despondent over the murder of his wife, their mother, goes out to the ship. There he will come face to face with the visage of a long-dead slave, while on the shore a self-described "slaveologist" lectures onlookers about "posttraumatic slave syndrome" and, in one of the most moving sections of this ever-shifting 80-minute whirlwind, a description of the horrific passage from West Africa to a considerably less accommodating New World.
Beaty's vocal delivery slides with seeming effortlessness among Ghana and Jamaica and New York, male and female, aged and young, street and effete. Not only does he viscerally hit us where it counts with his characters -- including a precocious little boy and girl, the latter harboring a tragic secret -- but Beaty is a also a force of nature when delivering performance poetry under the aegis of America's Next Top Poet. We see early the setup of Rodney's need to resolve his father's temporary breakdown and breakthrough upon that ghostly ship before Rodney can go on to compete on the show. But it in no way diminishes Rodney's stirring, final poem. Yet it is another character, Eric, who earlier presents a poem about being a nerd and a "Negro" -- about self-identity, self-loathing, and the struggle to integrate the two worlds African Americans find themselves in -- that summarizes so lyrically so much of Beaty's message here. From the sadly real to the gladly surreal, Beaty, directed with an accomplished hand by director Charles Randolph-Wright, is a one-man theatrical microcosm.
Presented by and at the Geffen Playhouse,
10886 Le Conte Ave., L.A.
Tue.-Thu. 7:30 p.m., Fri. 8 p.m., Sat. 4 & 8:30 p.m., Sun. 2 & 7 p.m. Apr. 23-May 25.
(310) 208-5454. www.geffenplayhouse.com.