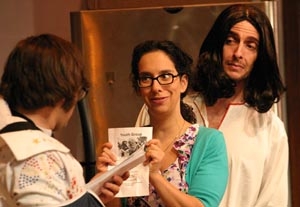 Playwright Deborah Zoe Laufer looks at religious fanaticism from a zanily skewed point of view in the dark farce "End Days."
Sylvia Stein (Abigail Revasch) may be a stereotypic obsessive, controlling Jewish mother, but that doesn't prevent her from embracing Jesus Christ (Andrew Abelson) as her personal savior—not to mention as her imaginary friend and sidekick. She's out to save the world before the imminent Rapture destroys it. She's driving her depressed husband, Arthur (Loren Lester), and her goth daughter, Rachel (Zoe Perry), crazy with her insistence that they confess their sins, beg forgiveness, and join in her crusade. Arthur lost his job, his company, and his employees in the World Trade Center holocaust, and he hasn't been out of his pajamas since 9/11. And Rachel is being stalked by eager-beaver 16-year-old Elvis impersonator Nelson (Charlie Saxton), whose costume is his security blanket even though it gets him beat up by his contemporaries.
The conflict escalates when Jesus informs Sylvia that the Rapture is set to occur next Wednesday and she insists on keeping Rachel and Arthur beside her on that fateful day. But meanwhile, Nelson is proving to be a sort of loony counterforce: His obsession with Stephen Hawking (Andrew Abelson) and his insistent adoration of Rachel begin to get to her, unleashing a whiff of romance. And when Nelson enlists Arthur to help him prepare for his bar mitzvah—and teach him to play gin rummy—Arthur begins to emerge from his long depression.
Laufer's characters are broad, predictable, and obvious, but director Lisa James and her able cast bring enough zest and humor of their own to keep things amusing, until the writer abandons her satiric edge for a feel-good ending and the proceedings go dramatically limp.
Revasch's stridency can be wearisome, but she's an able enough comedian to hold our interest, even when she's watching a Kirk Cameron video about the Rapture and being left behind. Abelson is hilarious as a smarmily benevolent Jesus and a petulant Hawking, who's jealously resentful when he realizes Rachel is interested in another astrophysicist. Lester's Arthur grows more engaging when he trades his clinical depression for a foodie's enthusiasm for cooking and eating. And Perry's perpetually angry Rachel achieves a certain sweetness when she is thawed out by Saxton's persistent affection and cheery, cherubic monomania as Nelson.
Jeff McLaughlin's flexible set is handsome, but—perhaps deliberately—a bit sterile. And sound designer Matthew Beville provides a spectacular aural pseudo-Armageddon.
Presented by and at the Odyssey Theatre, 2055 S. Sepulveda Blvd., L.A. Aug. 20-Oct. 16. Fri.-Sat., 8 p.m.; Sun., 2 p.m. (Also Wed., Aug. 31, Sept. 14, and Sept. 21, 8 p.m.; Thu., Sept. 8 and 29 and Oct. 6 and 13, 8 p.m. No performance Fri., Oct. 7. Sun., Oct. 2, performance is at 7 p.m.) (310) 477-2055 or www.odysseytheatre.com.