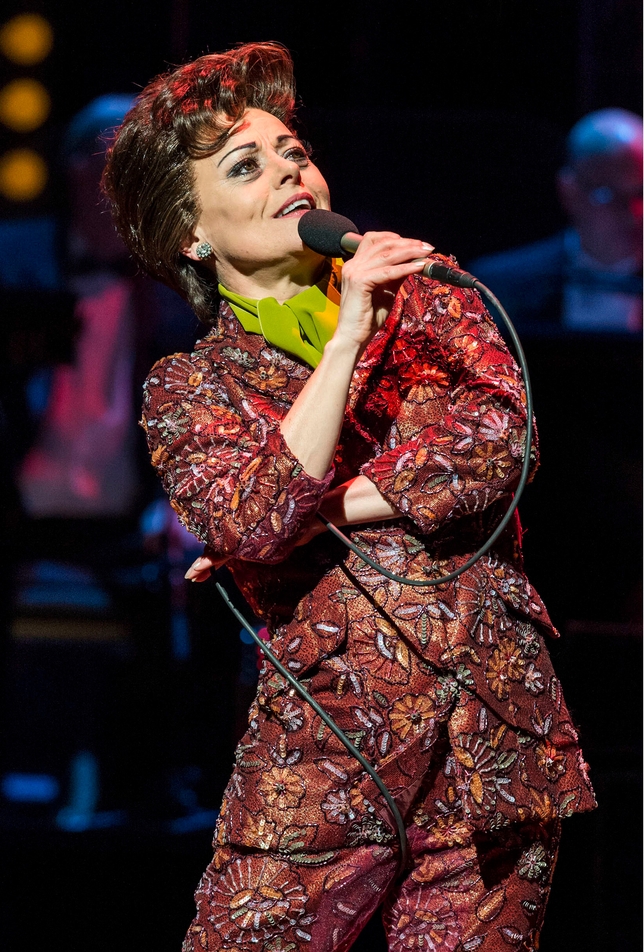 It was indeed near the "End of the Rainbow" for Judy Garland in 1968 when she traveled to London to begin yet another comeback. Peter Quilter's play with music, on a national tour after a short Broadway stay, captures the shaky star during that tumultuous run, her last attempt to revive her career and give sobriety another try. By summer she would be dead at age 47.
"End of the Rainbow" begins as Garland arrives at the Ritz for that infamous last engagement, already complaining about the unacceptable size of her suite, something hard to fathom even from the often cranky diva, considering that the room fills the massive Ahmanson stage. Garland's difficult tenancy avoiding the management's pleas to pay her bill is interspersed with scenes in concert at Talk of the Town, complete with a dynamic band appearing from behind, made possible by designer William Dudley's magically disappearing hotel room.
Tracie Bennett is physically like the star in those troubled days, offering a breakneck performance that's on the money in many ways. Bennett captures the manic energy and notorious tantrums, reeling around the suite searching for anything to get high, even a bottle of canine-mange medication. When Bennett hits the stage to perform the classics, including a frenzied, Ritalin-fueled account of "Come Rain or Come Shine," she has the signature quirkiness, from the disjointed movements to the shoulder upon which Garland slings her microphone cord.
Erik Heger plays the singer's last husband, Mickey Deans, in an unrelentingly unsympathetic portrait. Deans is presented as an opportunistic moustache-twirling villain, never the real guy who adored his wife to distraction. Michael Cumpsty appears as Anthony, an accompanist who hasn't been hired just as a pianist: "It's a wider job description," Deans reminds him. Cumpsty is wonderfully understated, offering a bittersweet moment when Anthony invites Garland to come live with him in Brighton, a potentially uncluttered existence made more staid by his sexuality.
Critics work hard to stay objective, but this reviewer has a daunting task, as Garland was a part of my personal life since childhood. Before she left for England never to return, I was one of the friends she called in the middle of the night to talk her down from days of consuming pills followed by downing alcohol to try to sleep. Bennett captures her signature concert moves splendidly, if with a bit of shrillness and fewer of the melodic tones that made her voice still so compelling even after it broke.
Bennett gives an exhilarating, exhausting performance, one I would praise wholeheartedly if Garland were a fictional character and not a real person. Under Terry Johnson's direction and fueled by Quilter's text, Bennett evokes the tabloid target, neglecting her sweetness, her caring for others, and especially her sharp wit, which comes off here as merely bitter and sarcastic. Garland may have careened around onstage, but never did she throw herself dramatically across chaise lounges in real life. She was a mess, but when sober she was a gentle, incredibly loving person, something Quilter misses entirely. And that made me even sadder as I watched my beloved friend descend once again into self-inflicted oblivion.
Presented by Lee Dean, Laurence Myers, Joey Parnes, Ellis Goodman, Chase Mishkin, Shadowcatcher Entertainment/Alhadeff Productions, National Angels U.S., Charles Diamond, Myla Lerner/Barbara and Buddy Freitag, Spring Sirkin/Candy Gold, Hilary Williams, and S.D. Wagner, John Johnson, in association with Guthrie Theater, at the Ahmanson Theatre, 135 N. Grand Ave., L.A. March 20–April 21. (213) 972-4400 or www.centertheatregroup.com. Casting by Pat McCorkle.
Critic's Score: B