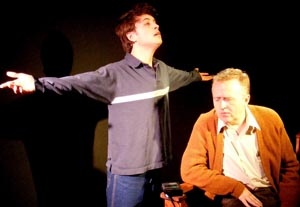 Peter Shaffer's award-winning 1973 London and Broadway play, a feat of breathtaking theatricality, continues to resonate powerfully. The visceral charge of the play's ritualistic pageantry—part balletic Greek tragedy, part religious symbolism—heightens its mix of psychodrama and mystery thriller. Director August Viverito's revisit, scaled down to a tiny playing area, serves the piece beautifully, offering a gripping and intellectually stimulating experience.
As audience members are seated on both sides of the stage, and actors take seats among us between their scenes, the play's examination of the uniqueness of personal definitions of faith and morality is brought into sharp focus. What influences in our lives shape our individual spiritual and emotional realities, and how can scientific principles ever hope to place them in a reliable context?
Inspired by the real-life case of a young stable boy in England who blinded six horses with a poker, the playwright devised a story centering on Dr. Dysart (Jim Hanna), the psychiatrist treating the disturbed boy; the boy's controlling parents (Karen Furno and Skip Pipo), who have widely conflicting religious, sexual, and ideological beliefs; the institutionalized youth, Alan Strang (Patrick Stafford), harboring confused notions of sexual awakening combined with religious idolatry; and the young girl (Lauren Schneider) who hopes to seduce Alan. Yet the majestic horse figures (Aaron Misakian, John Joyce III, Michael Rachlis) are also of paramount importance, particularly in the play's climactic scene, eloquently staged by Viverito to bring the play's startling dreamlike imagery to a fever pitch.
Sublime design elements enhance the exciting story. Viverito's minimalist adaptation of the original set design for a black-box space is highly effective. Ric Zimmerman's lighting is likewise wonderful, and dialect coach Armand Desharnais achieves impeccable results. The horse heads created by Tracy Theatre Originals are terrific.
Stafford offers an impassioned and deeply empathetic performance. Hanna does a masterful job of delineating the doctor's fervent interest in the case and his self-doubts. Furno and Pipo lucidly illuminate the parents' well-meaning but misguided child-rearing techniques. Splendid support comes from Schneider, Gretchen Koerner as a court magistrate, and the actors playing the horses and other roles.
Presented by the Production Company at the Chandler Studio Theatre, 12443 Chandler Blvd., North Hollywood. July 3–Aug. 22. Fri.–Sat., 8 p.m. (Also Sun., 3 p.m., July 26–Aug. 16.) (800) 838-3006. www.theprodco.com.