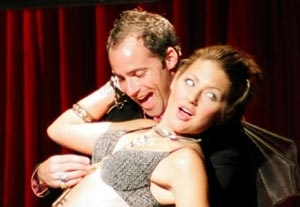 Adam and Eve and original sin re-imagined are something easily bought by those of us who have skipped Sunday school. Too bad, then, that the black-leather blood-lust
Matrix
moves within Bryan Reynolds' fabulously overproduced world premiere don't do anything to the once-familiar tale but make it ridiculously tedious.
It's difficult to tell where, exactly, the playwright wants to take us in
Eve's Rapture
. For the most part it feels uncomfortably like stylish Christian doctrine. But the adventurous cast plods along on Luke Cantarella's sci-fi–meets-goth setting, all very video-game delicious (costumes by Christa Mathis). Kendra Smith is a lovely, lanky Eve, looking to mix it up with her placid partner (Ryan Patrick Welsh) in the garden but finding snakes are much more up her alley. Chris Marshall is a pretty hot Satan, so who can really blame her? The solid Martin Swoverland and Helen Sage Howard do super turns as armed archangels and the devil's deadly minions.
Robert Cohen directs the hell out of the proceedings. The production makes impressive use of video (John Crawford) and a powerful sound design (Mike Hooker and Palmer F. Jankens). However, even with all of the crackerjack elements onstage, it's very hard to get past the play's cumbersome dialogue, awkward songs, and mystifying intentions. Is
Eve's Rapture
supposed to be mind-blowing in a way that challenges our perceptions of God and power and good and evil, allowing us to have fun and an Xbox fix while we're at it? If that's the deal, it doesn't deliver.
Presented by the Field Station and Transversal Theater Company at the Hayworth Theatre, 2511 Wilshire Blvd., L.A. May 22–June 27. Fri.–Sat., 8 p.m.; Sun., 7 p.m.
(323) 960-7721
.
www.plays411.com/evesrapture
.