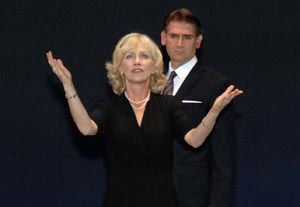 Carol Lynn Pearson's three-hander is an often-searing indictment of rigid values integral to monolithic systems like organized religion, as well as the impact such systems have on Ruth and Alex, a Mormon couple mourning the suicide of their gay son Andrew. Ruth can't get over or around her ingrained belief that homosexuality is a sin; in his grief, Alex pleads for Ruth's empathy and understanding of what Andrew's life must have been like over the past year with his lover, Marcus. The bulk of the play stirs up the emotions roiling within this couple, their son's death unleashing a torrent of heretofore unspoken conflicts. At times, Pearson's writing resembles Arthur Miller's, and not in a good way: Much of the dialogue seems more contrived, more decidedly poetic, than the realism such a scenario requires.
Terry Davis as Ruth and Christian Lebano as Alex show the standoff that develops as the couple lingers at a Salt Lake City cemetery. Davis shows Ruth's inability to accept that everyone deserves equal treatment regardless of sexual orientation. Lebano has the more difficult role as the father who tries to meld their son's position with Ruth's, and his own, long-standing beliefs. Pearson conjures Andrew at various ages by having Davis converse with him, voiced by Lebano, or Lebano conversing with him, voiced by Davis. Under Shashin Desai's guiding hand, the issues they bat around come to a head, but it's a wonder neither seems to be choking back tears. When that obvious response arrives, it's an emotional release.
Daniel Kash's Marcus gingerly approaches the parents of his now-dead lover, gently defying Ruth and trying to debunk her views of Andrew's lifestyle. With its vistas of sky, clouds, boulders, salt pillars, and a huge hive overhead, Stephen Gifford's scene design evokes the Beehive State, a place where society's expectations of its youth can often prove crushing.
Presented by and at International City Theatre, Long Beach Performing Arts Center, 300 E. Ocean Blvd., Long Beach. June 12–July 5. Thu.–Sat., 8 p.m.; Sun., 2 p.m.
(562) 436-4610 or www.ictlongbeach.org.