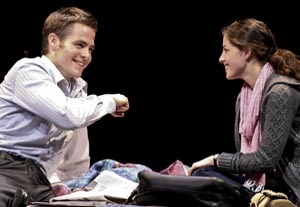 Though the look is contemporary chic and the unspecified time period is clearly the 21st century, there's something old-fashioned—in a good way—about Beau Willimon's juicy political potboiler. It's not surprising that a studio film version of this 2008 play is already in the works. A throwback to vintage popcorn films about politics—such as
The Best Man
(1964)—the enjoyment of this absorbing portrait of ruthless machinations during a U.S. presidential campaign derives more from adept storytelling than from possible parallels with recent election headlines. Restaging his 2008 Atlantic Theater Company production, with three actors reprising their roles, director Doug Hughes pulls off a delicious diversion, powered by first-rate performances.
The overzealous protagonist, Stephen Bellamy (Chris Pine), a 25-year-old press secretary working with presidential campaign manager Paul Zara (Chris Noth) to get their man to the White House, is a golden-boy whiz, whose wit, confidence, and likability make his blunders all the more tragic. Pine gives a scintillating star performance, eliciting charm and empathy, even when we find ourselves reluctantly believing his admission, "I'm not a good person."
But who is truly "good" among the ambitious people in Bellamy's professional sphere? The fun in this tangled web of power struggles is figuring out who—if anyone—operates with integrity. It doesn't take long for us to suspect Zara has less-than-perfect ethics. But what about the gutsy New York Times reporter (Mia Barron) Bellamy considers a friend; the assertive young intern (Olivia Thirlby) who seduces him; and his seemingly wet-behind-the-ears assistant (Dan Bittner)? It's less of a leap to question the motives of Tom Duffy (Isiah Whitlock Jr.), the campaign manager of the opposing party who arranges a meeting with Bellamy.
Noth is excellent as the good-humored yet tough career man, illuminating the character's steely determination tempered by fatherly affection. Whitlock sinks his teeth into his plum role as a slick political player, riveting in his tense scenes with Pine. The other actors, including Justin Huen in two small roles, are likewise superb. The smart high-tech production design conjures the dizzying multimedia images we are bombarded with during political campaigns.
Presented by and at the Geffen Playhouse, 10886 Le Conte Ave
.,
L.A. June 24
–
July 26. Tue
.–
Thu
.,
7:30 p.m
.;
Fri
.,
8 p.m
.;
Sat
.,
4 and 8:30 p.m
.;
Sun
.,
2 and 7 p.m
. (
310
)
208-5454. www.geffenplayhouse.com
.