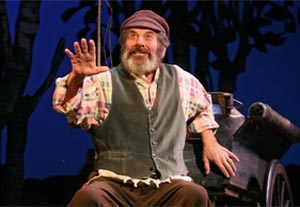 If anyone doubts that age and experience can be an actor's best friends, this touring revival of a Broadway classic provides apt proof otherwise. When Israeli actor Topol first played the 50-something role of Jewish-Russian milkman Tevye in
Fiddler on the Roof
(onstage and in an Oscar-nominated 1971 film portrayal), he was in his 30s, requiring him to master the daunting physical and emotional transformations. His effort was triumphant; he put his own indelible stamp on a role that remains the crowning achievement of Broadway's original Tevye, Zero Mostel. Topol has subsequently reprised the role countless times; at age 73, he audaciously embarks on what is billed as his "farewell tour" in this show.
An astonishing round of prolonged applause greeted the actor's first entrance on opening night, and it quickly became clear such adulation is fully earned. Topol takes charge of this role with utmost conviction and impeccable skill. His portrayal is transcendent, bringing renewed vigor and emotional depth to this treasured musical drama. Maturity, wisdom, and years of perfecting his craft have prompted the actor to settle into a mellower yet richer Tevye. There's not a hint of "been there, done that" in his work. Whether glancing upward to deliver heartfelt pleas to God, dancing a spontaneous jig, or ripping loose with a bark that's worse than its bite, Topol anchors this production with his grace, intelligence, energy, and ability to enchant us.
Befitting this happy occasion, he is backed up by an exemplary ensemble cast and a first-rate staging by Sammy Dallas Bayes, who give us an exciting re-creation of Jerome Robbins' original choreography and provides a faithful, though not slavish, approximation of Harold Prince's original direction. The unforgettable Jerry Bock–Sheldon Harnick score sounds wonderful under the music direction of David Andrews Rogers, and the production design is grade-A.
Sterling performances are delivered by Susan Cella, who's warm, wise, and rock-solid as Tevye's wife, Golde; Mary Stout, who's robustly amusing and endearing as Yente the Matchmaker; and a superb group of actor-singers as the daughters (Rena Strober, Jamie Davis, Deborah Grausman) and their suitors (Erik Liberman, Colby Foytik, Eric Van Tielen).
Presented by Broadway LA at the Pantages Theatre, 6233 Hollywood Blvd., L.A.
July 23–Aug. 9. Tue.–Fri., 8 p.m.; Sat., 2 and 8 p.m.; Sun., 2 and 7:30 p.m.
(800) 982-2787. www.broadwayla.org.