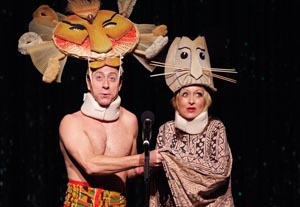 Since 1982, creator-writer Gerard Alessandrini has raked Broadway over the coals with his annually updated
Forbidden Broadway
series, which ended its venerable Off-Broadway run in March. Musical Theatre West has tapped into Alessandrini's treasure trove of spoofs for L.A.'s first locally produced rendition. Rising to the occasion, director William Selby and ace music director–accompanist Michael Paternostro lead L.A.-based David Engel and Larry Raben and
Forbidden
vets Susanne Blakeslee and Whitney Allen in a riotously funny compilation, matching versatile performers with inspired material.
Alessandrini's nothing-is-sacred attitude affectionately satirizes the Achilles' heels of even the most-beloved shows. His ingenious parody lyrics and zany concepts poke trenchant fun at musicals and plays, performers and other creative artists, and behind-the-scenes scuttlebutt. To avoid the esoteric, MTW's collage wisely focuses on relatively recent hits, iconic performers, and perennially popular works.
The opening-night crowd roared when Blaskeslee expertly conjured Carol Channing's aging-kewpie-doll voice and mannerisms in
Hello, Dolly
!, while mature chorus boys Engel and Raben crooned cynical lyrics set to the title tune, bemoaning the star's umpteenth tour in the warhorse. The talented Blakeslee exquisitely channels an egomaniacal Barbra Streisand as well as a larger-than-life Idina Menzel in
Wicked
("Defying Subtlety" to the tune of "Defying Gravity"). Raben takes on a histrionic drama-queen Mandy Patinkin, and Allen goes after a giggly Liza Minnelli ("Liza One-Note") and Patty LuPone in the
Gypsy
revival ("Everything's Coming Up Patty").
Engel is at his best as an audacious Harvey Fierstein in
Hairspray
—foghorn-voiced housewife–turned–brassy diva—and as a vocally challenged Michael Crawford in
The Phantom of the Opera
(warbling "Mucus of the Night"). Among the funniest group numbers are a terrific
Les Misérables
segment, a spot-on
Lion King
roast ("The Circle of Mice"), and a honey of a
Jersey Boys
medley ("Walk Like a Man, Sing Like a Girl"). After two hours of this gleeful irreverence, the evening concludes with a sweet-spirited tribute to Stephen Sondheim—putting it all together in a classy fashion, and whetting our appetites for the Volume Two we hope is forthcoming.
Presented by Musical Theatre West at the Carpenter Performing Arts Center, 6200 Atherton St
.,
Long Beach
.
May 2
–
17. Thu
.–
Fri
.,
8 p.m
.;
Sat
.,
2 and 8 p.m
.;
Sun
.,
2 p.m
.
(
562
)
856-1999, ext. 4 or www.musical.org
.