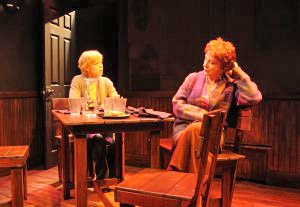 Forgiveness ain't easy, for the characters in David Schulner's play or for his audiences. Jill and Ben are newly affianced. They are driving to the home of Jill's father and stepmother so that Ben can meet his prospective in-laws. A few miles away from the young couple's destination, Jill springs a profound secret on Ben. Never mind what Ben thinks; what should we think of her? Isn't this something she should have told him around the time they decided to marry, if not earlier? Shouldn't she at least have told him before they left the house on this interstate drive? Or, as some audience members were suggesting in quiet discussions after the play, should she have told him at all? Doesn't complete forgiveness obviate the need for further dredging up?
From the first moment we see Emily Bergl as Jill, in the passenger seat on that long drive, we are given a full, honest look at the character. Bergl seems translucent: We know Jill's thoughts, and we sense her emotions. Or is it because Schulner made her the only character who has fully processed her forgiveness? Or is it Matt Shakman's savvy direction, ensuring we never quite know what the surrounding characters are thinking and feeling? Schulner leaves enough space in his script for the director and actors to fill, but questions remain, and Shakman lets us wallow in our puzzlement.
Can Jill's father, Sam, forgive and be forgiven and tolerate any forgiveness? In the finest of theatricality, the way Morlan Higgins plays him we're not sure. His Sam seems lost in thought, sad, and yet faintly disgusting. Lee Garlington's Penny seems oblivious yet subtly angry. Both actors are so real, so emotionally present, it's blissfully painful to watch them. And at times are we watching Jill or are we watching her little stepsister, Jillian—in a wonderful performance by Kendall Toole as a sometimes sullen, sometimes joyous teen?
What must Ben be thinking, from the moment he hears the confession until the time the new couple departs the house? Peter Smith doesn't force Ben's thoughts on us. A long conversation about a new home, clearly a metaphor for family structure, gives Ben a chance to process forgiveness and Smith to show how layers of emotions can be painted with great care.
No forgiveness is called for in Kurt Boetcher's rich wood set and Heather Graff and Richard Peterson's soft lighting design. But we may not forgive how much this play continues to haunt us.
Presented by and at the Black Dahlia Theatre, 5453 W. Pico Blvd., L.A. Feb. 20–March 28. Thu.–Sun., 8 p.m. (800) 838-3006. www.thedahlia.com.